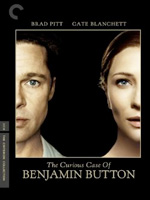 The Criterion release of David Fincher's "The Curious Case of Benjamin Button" is a superlative piece of home entertainment to say the least, especially on Blu-ray.  Claudio Miranda's photography was absolutely gorgeous as it was in cinemas, but being largely digital, the transition to high definition is seamless and probably belongs in the top tier of Blu-ray releases thus far from a visual standpoint.
Technical attributes aside, I can't say enough about the epic making-of documentary that is featured on the film's supplemental materials disc.  At nearly three hours, it all but dwarf's the film's already massive running time.
Opening with a rather emotional personal story from Fincher that recounts his father's death at the hands of pancreatic cancer, the brief intro gives you more than enough insight into the director's reasons for taking on the project, which of course had been bouncing around Hollywood for two decades when the wheels were finally put into motion.
In fact, the doc does a brilliant job of showcasing the years of non-starts that producers Kathleen Kennedy and Gary Marshall had to suffer through on the way to finally realizing the project on screen.  No matter your opinion of the film, you have to respect that kind of dedication.
There is an exceptional amount of behind-the-scenes footage stitched together by talking-head interviews with principles both above and below the line.  But most interesting were accounts of the day-to-day troubles of working in post-Katrina New Orleans, which ranged from a depleted trolley car fleet (which the production was dependent on for period correctness) to a lack of public works personnel to assist in the production (because the department had been whittled down considerably due to countless lay-offs).
Of course, the doc really lights up when it comes to post-production.  If you like keeping the mystery of movie magic in tact, steer clear, but if you delight in pulling back the veil, this is for you.  Everything from the five days of performance capture on actor Brad Pitt to the particulars of the Academy Award-nominated sound mixing (which I respect even more after seeing this), it's all laid out with nary a stone left unturned.  Fascinating stuff.  I'm still shocked the film pushed forward with so much doubt surrounding whether the visual effects would eventually come into place.
Oh, personal favorite random nugget: Fincher named the tugboat featured in the film "Chelsea" just to playfully spite actor Jared Harris, who is a big Manchester United fan.  If you're not into soccer, apologies for the confusion here.
I think it would benefit any film lover to dig into this featurette.  Like I said, whether you loved the film or hated it (and there are plenty on both sides of the line), there is no denying the amount of work that went into this production.  There are plenty of titles I'd rather see Criterion featuring on Blu-ray, of course, but I was quite taken with this particular disc and can't recommend it enough.
The Criterion edition of "The Curious Case of Benjamin Button" lands on Blu-ray and DVD tomorrow.