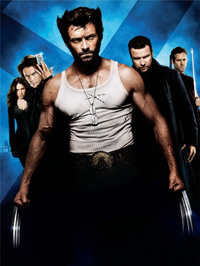 After all the hype, "X-Men Origins: Wolverine" opened with a solid $87.0 million at the box office this weekend.  Both "X2" and "X-Men: The Last Stand" started with over $100 million* but "Wolverine" does better the $72.6 million of Bryan Singer's original from 2000. When a film is received as poorly as Brett Ratner's third entry in the franchise was, it's only natural for the follow-up to start a bit lower.
Almost any franchise will prove this but the easiest example is "Batman." Schumacher did his worst with "Batman & Robin" and unsuspecting customers shelled out $67.1 million* on opening weekend. The movie collapsed from there and it took Warner Bros. years to attempt another shot at the bat. In steps Christopher Nolan and "Batman Begins" debuted with a cautious $54.6 million. Everybody loved it, the stars aligned and "The Dark Knight" opened to $158.4 million. Obviously, there were other factors at play but look at the "Back to the Future," "Mission: Impossible" and "The Matrix" films for further proof.
Anyway, all that is to say that $87 million isn't really disappointing, nor is it that spectacular. "Iron Man" debuted with $98 million on this weekend last year without any previous big screen incarnations. "Wolverine" will most likely not make it to $200 million and life goes on.
Matthew McConaughey tried his luck at counter-programming and brought in $15.3 million for "Ghosts of Girlfriends Past." That's the worst debut he's had in the romantic comedy genre since "EdTV" in 1999 and only a tiny fraction better than "Made of Honor"'s debut last year versus Tony Stark. I'm willing to go out on a limb and guess that McConaughey's salary was a bit larger than Patrick Dempsey's so that return is just not good enough. I like to think that it didn't do well because it looked awful but that wouldn't explain "Wolverine"'s numbers.
And then there's "Battle for Terra." Lionsgate and Roadside Attractions partnered to buy the rights to distribute the film together but now Lionsgate is trying to pretend like it doesn't exist. Audiences followed suit as the film only took in $1.1 million and couldn't crack the top 10. In fact, it posted the 15th worst per theater average ever for a film opening in 1,000 screens or more. Grim.
The drops were pretty brutal again for last week's releases as only "The Soloist" could keep more than 50% of its audience. Fighting dropped a horrific 62% and even Disneynature's "Earth" fell 52% but if you think those are bad, just wait to see what the mutant does next week.
I gave my $10 to two different films this weekend. The first was "In a Dream" and it was great. If you don't live in New York, L.A. or Philadelphia, you have no hope of seeing it but if the Academy has a decent memory and the slate winds up thin, it could deserve a look for Best Documentary. I also saw "The Limits of Control," which tested the limits of my patience. I pretty much hated all of it save for Chris Doyle's typically sumptuous cinematography.
If you're 35 and have never had a girlfriend, chances are you are very excited about what's coming out this Friday. That's right, it's "Star Trek." If you just haven't been satiated by the 10 previous films, six television series and countless imitations, then you've simply got to see this new movie. It's young and hip and fresh and Tyler Perry is in it so black people are welcome too. This is no "Speed Racer" and it should buck the trend of huge bombs opening in the second weekend of May. I see $66 million in my crystal ball.
For those who like their movies with a little bit more Mos Def in them, there's "Next Day Air." Summit is only booking 1,000 screens or so, which isn't a good sign but I actually think this could have been a small success given a wider push. I'll say $5 mil and call it a missed opportunity.
What are your "Trek" predictions?  Here are the top 10 domestic grossers this weekend, courtesy of Exhibitor Relations: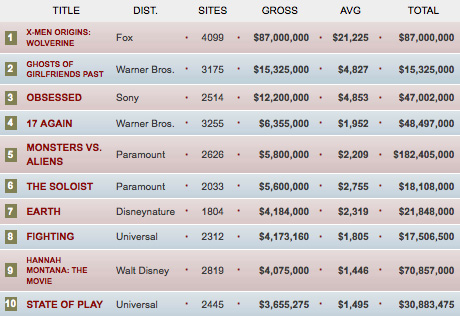 *Please remember, I use dollar figures that have been adjusted for inflation when analyzing box office stats.