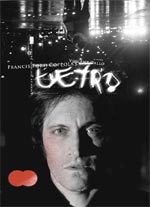 You've likely seen the trailer for Francis Ford Coppola's "Tetro" by now. It seems to be going down well with some bloggerfolk, but I must reluctantly say the trailer didn't really sing to me. It certainly looks attractive (even if the black-and-white lensing struck me as a tad self-regarding when viewed out of context), but there's a stilted quality to the character exchanges that I can only hope is the result of heavy-handed trailer-cutting.
Anyway, Pam Grady at FilmStew is significantly more impressed by what she's seen, and based upon the trailer and some behind-the-scenes footage, is anticipating something rather special. (Though if any critic declares the film "Coppola's crowning achievement" upon its release, I will gladly eat my hat and film the act for posterity.)
I was very interested, however, to read Coppola's description of his dramatic influences for "Tetro," which fully supports the hints of heightened melodrama in the trailer:
"The gods were Tennessee Williams and Elia Kazan," he says. He insists that Tetro – a story of two brothers whose father is a great classical musician and conductor, not unlike Coppola's late father Carmine – is only very loosely autobiographical. Likening the father in Tetro to "a mythic Greek tragedy father, Desire Under the Elms, a [Cat Under a Hot Tin Roof] Big Daddy," he insists his own old men was exactly the opposite. "My father was a wonderful father and a very interesting man." "I've set it in Argentina to disguise it so nobody in the family would think it was about us," he jokes.
He also explains his entirely personal rationale for shooting in black-and-white, suggesting a desire to channel the classic cinema that has most resonated with him in his own lifetime — but fully acknowledging it may cause audiences to stay away. Here's hoping otherwise.