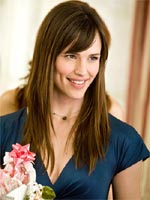 I have a horrible confession to make: I am probably going to see "Ghosts of Girlfriends Past" at some point this weekend. As if that wasn't mortifying enough to admit in public, I'll go further: I am doing so voluntarily.
This time, no friend or manipulative relative is dragging me into the theatre as a helpless victim of counter-programming. On the contrary, I'm desperately seeking an ally to spare me the humiliation of sidling up to the ticket booth and mumbling "One for 'Ghosts of Girlfriends Past,' please."
I have no takers yet, and I understand why -– the film looks fucking dreadful, after all. The trailer cheerfully kills a little portion of my soul every time I see it. And every time a London bus emblazoned with the film's hideous poster art and godawful title passes my living room window (which is to say about every quarter-hour), I have to resist the urge to hurl a rock at Matthew McConaughey's bronzed, charisma-vacuumed mug. So why am I punishing myself in this manner?
Two words: Jennifer. Garner.
We all have a list of actors who we really know we shouldn't love, who do terribly little to earn our devotion with an ever-more-dodgy resume — but who, like a really toxic ex, somehow manage to lure us back for their latest effort, however unpromising. And, nestled somewhere between latter-day Jude Law and another Jennifer with TV roots, Jennifer Garner is one of mine.
Garner has, for me, that indescribable movie-star 'it' quality that keeps her empathetic and interesting even when the film around her is going down in flames. I've never not liked Garner in a film. (OK, "Elektra" came close.) But I rarely like anything she appears in.
Glorious exceptions exist, of course. Garner's star-making vehicle, "Alias," remains my favourite network TV series of the decade, an endlessly absorbing fusion of intricate narrative trickery and gleefully dumb gosh-wow pyrotechnics that required megawatt star power (and a lot more tongue-in-cheek wit than one might have expected) from its leading lady to stay afloat.
And "Juno" remains the high-water mark of Garner's career thus far, the point where she finally proved to the masses what I'd suspected all along – that she can be a dramatic actress of great intelligence and restraint. I maintain that Garner actually scooped best-in-show honours in that classy ensemble, finding more breathing-room and genuine feeling in Diablo Cody's sometimes suffocating dialogue than her co-stars. An Oscar nomination was unfairly out of reach, but she surely came close.
Of course, it's easier to impress in quality enterprises like these. Garner's gifts really become apparent to me when she finds humour and nuance in drek as indifferently written and crafted as, say, "Catch and Release," and singlehandedly manages to turn the umpteenth shameless "Big" clone into a bright, smart guilty pleasure that very nearly resembles a good film.
That, of course, would be "13 Going on 30," her first attempt at carrying a feature, and as literal an application of the term "carry" in that context as you're likely to find. Of course, it helps that she is supported by Mark Ruffalo there – but it's still entirely The Jennifer Garner Show, a swirling mass of confidently executed broad gags (that joyous "Thriller" dance, of course) and smaller, beautifully rendered physical and gestural details that point to far more inner life than the character actually deserves. There hasn't been a more interesting rom-com performance since, and in a lesser year than 2004, I'd argue for her retroactive inclusion on the Oscar ballot.
I should stop now, before someone takes my credibility card away and passes it through the shredder. But as I grimly get in line for "Ghosts of Girlfriends Past," I'll be hoping for flickers of that occasional film-saving luminescence from her. I'm not optimistic, but if it really does prove irredeemable … well, I'll still like her. She's on my list.
Am I alone here? Am I crazy? And which actors do you love against your better judgment?