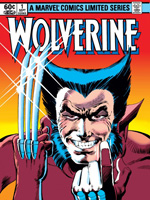 "X-Men Origins: Wolverine" opens nationwide today but it dropped just a little earlier across the pond. Owen Vaughan at The Times of London has put together a nice dissection of the Wolverine character with comic writers Len Wein and Chris Claremont in mind but I really wish Wein had participated because the entire piece is filled with Claremont quotes.
The significance of the two men is undeniable. Wein, of course, created Wolverine way back in 1974 as a sideline villain in the pages of "The Incredible Hulk." You might remember that photo of Hugh Jackman meeting his maker, so to speak, at San Diego ComicCon last year.
The character's first appearance came on the final page of issue #180 of the series, but it's #181 that stands out most to fans (and commands the most dollars if you're looking to bulk up your Wolvie collection). The cover is a classic image: Wolverine, in his odd recognizable regalia, slashes violently at the Hulk as the villainous Wendigo stalks the two of them in the background.
Claremont, meanwhile, gave Wolverine all of his characteristic charm and, together with artist Frank Miller, added texture and depth in "Wolverine" mini-series of 1983. As Claremont says in the Times interview, "The film is based on the Wolverine Weapon X series and [Paul Jenkins's] Wolverine Origin but the essential character is my guy."
Further expanding on his vision of the then nine-year-old character:
"My idea of Wolverine was that if you walked into his room half of it would be a total trash heap, a sloppy couch and more beer cans than you can imagine, and half would be the quintessence of economy and grace – a stand for his sword and maybe a picture on a table. Wolverine is essentially at war with himself. There's a part of him that wants to be this pure, pristine man of honour and there's a part of him that wants to say, 'F*** this' and hit the bars. He hasn't found a way to reconcile those two things."
Interestingly enough, Claremont was against Marvel's idea for an origin yarn from the start. Paul Jenkins's "Wolverine: Origin" was one of the company's most popular series ever but Claremont felt like the idea deflated the character of all his intrigue:
"With Logan, the less you know the better. He's a mystery, an enigma. Once an origin story has been told you can't untell it. It's like Spider-man's marriage to Mary-Jane – you can't undo it without making a deal with the devil."
Claremont didn't hold back on the line he draws between his version of the character and Wein's. Here he illustrates the striking differences:
"For me it's a double-edge sword because Len's vision of Wolverine was so different from what Dave and I evolved the character into. Len thought of him as an 18-year-old kid and intended the claws to be part of the gloves. It was Dave that came up with that idea of the claws being part of Wolverine's body, to which I said, 'That's disgusting. Let's do it.' Len and I never talked about it. Dave and I just made it up as we went along. But there's a part of me that's incredibly jealous that Len got to shake hands with Hugh Jackman."
It's a great piece, well worth the read. There is also a list of "five Wolverine stories to get your teeth into" that I find rather difficult to argue against. Check it all out here.  And my review of "X-Men Origins: Wolverine" here.