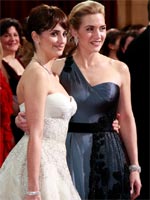 Given the debate currently active on these pages over what does and does not merit the term "influential" in the film world, there couldn't be a better time to link to Time magazine's list of (supposedly) the world's 100 most influential people.
Time slightly sidesteps the inherent comparative silliness of such a list by breaking it down into spheres of influence — though you have to admit there's something slightly confounding about a survey that places Michelle Obama and Rafael Nadal in the same category. (Apples or oranges? Discuss.)
But even  by just taking a mini-survey of the film-related figures in their Artists & Entertainers division, one has to conclude that they are as uncertain about what "influential" actually means as so many others are. In many cases, the list could be more plainly described as "famous people who have had a very good year."
Take Kate Winslet, for example — an undeniably great actress, a constant media presence in the last few months, and duly rewarded for her pains. But "influential?" As accomplished a performer as Winslet is, I'm not convinced that she has significantly altered the craft in which she works, or given rise to any discernible popular or artistic trends. Going strictly by the book, I'm afraid I'd have to declare Zac Efron a worthier inclusion than Winslet.
The same caveat goes for Penélope Cruz, also on the list — a very talented and likable figure who some feel scored a personal best in the past year, but success does not equal influence. (On the other end of the scale, while his industry power remains a constant, what has Tom Hanks done in the past 12 months to merit his inclusion? And what did any of these folks do so right that, say, Christopher Nolan did not?)
Anyway, I'm nitpicking. The real pleasure of the list derives from reading heartfelt tributes to talented figures from largely well-chosen peers. My personal favourites include Spike Jonze's take on Academy Award nominee M.I.A. (sorry, I still get a kick out of saying that), and Roger Ebert's celebration of Academy Award nominee  Werner Herzog (OK, I get an even bigger kick out of finally saying that):
Herzog believes our world is "starving for images." He tries to feed us: Kinski as a madman adrift on a raft with gibbering monkeys in Aguirre, the Wrath of God; Timothy Treadwell in Alaska with the bear that would eat him in Grizzly Man; a tiny teardrop airship exploring the rain-forest treetops in The White Diamond.

In 1974 Herzog walked from Munich to Paris to carry his new film to the dying critic Lotte Eisner. To a younger generation, he represents a similar heroism. Ramin Bahrani, the much admired new American director, told me, "If I could meet Herzog, I would crawl to him on my knees."
Indeed. There's no best-before date on some people's influence. Check out the rest here.