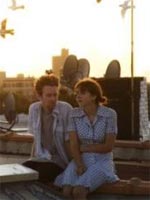 The Tribeca festival has a hit-and-miss record when it comes to picking winners that go on to great things. However, they certainly proved prescient last year, when they handed their top prize to "Let the Right One In," so it's worth taking a moment to mention this year's choices.
Of course, their Best Narrative Feature winner, Iranian ensemble drama "About Elly," already has a major festival gong under its belt, having taken the Best Director prize at February's Berlinale. Following the film's Berlin premiere, Screen International described the work, which investigates the foibles of a group of friends holidaying at a Caspian beach resort, as "one of the most remarkable Iranian films to surface in the last few years," while the Tribeca jury's statement reads:
Out of a strong selection of films, the jury was unanimous in our passion for this seamless piece of ensemble filmmaking. The universality of the characters and themes, and the directors riveting grasp of this story make "About Elly" a film that collapses barriers and deepens our understanding of the world we share.
(The statements on each winner are a handy detail, by the way.) Given that Iran went with "Song of Sparrows," another Berlin-bowing festival hit, as their official Oscar submission last year, I suspect we might be hearing more of this title in the 2009 foreign-language race.
The jury looked further west for their acting prizes, however, handing awards to Ciarán Hinds for "The Eclipse," a low-key ghost story from acclaimed Irish playwright Conor McPherson and Zoe Kazan in the American indie effort "The Exploding Girl." The 25 year-old actress (granddaughter of Elia) has drawn a number of raves for her performance as an insecure college student returning home for a semester break. As someone who was very impressed by Kazan's delicate character sketch in "Revolutionary Road," I'm looking forward to seeing this.
Full list of winners here.