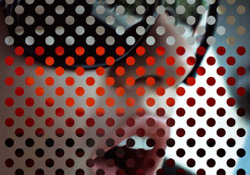 Steven Soderbergh really gets back to what he's good at in "The Girlfriend Experience," a look at five days in the life of Chelsea, an upscale Manhattan escort (adult film star Sasha Grey, in her mainstream debut).
The film is intimate (no pun intended) but also keeps the audience at arm's length, forcing a voyeuristic quality to the goings-on.  Soderbergh employs long takes throughout, allowing his characters to steadily reveal their intentions, desires and simple thought processes.  But what he ultimately conveys is a portrait of some alien being, seemingly out of touch with all human feeling and emotion.
Perhaps this is Grey's downfall as an actress (since Soderbergh goes to great lengths to establish her as a thoughtful person), or perhaps it is the filmmaker's point.  Whatever the case, "The Girlfriend Experience" represents Soderbergh at his most compelling, asking questions with his work behind the camera, probing the reality of relationships and bringing his audience along on a journey that ultimately gives no answers, offers no revelations and abruptly concludes after a brisk 77 minutes.  It doesn't work completely but it is a preferable road to the "Ocean's" series for the filmmaker to be on, of that we can be sure.
The film really sings in its array of supporting characters.  Chris Santos falls a bit flat opposite Grey as Chelsea's stunningly understanding boyfriend, but Mark Jacobson provides a lot of the meat in the broken narrative when scenes featuring his expose journalist interviewing Chelsea over lunch are spliced in.  Various "clients" bring an assortment of topics to the awkward pre-coital conversations with Chelsea that could have been more revealing of our heroine.  Similarly, vacuous musings from a friend over brunch never illuminate and only serve as a sounding board for Chelsea's own half-baked commentary on her life.
The shining cameo of the piece comes in the form of former Premiere critic (and current blogger) Glenn Kenny as an escort assessor, shall we say.  His verbiage cuts to the bone in a later sequence in ways that leave one's mouth agape at the cruelty.  Some say Kenny was type cast.
The film's downfall comes in its insistence on an outside-looking-in approach that does nothing for its central character.  Cool and monochrome might have been the idea behind both the visual look and thematic context of "The Girlfriend Experience," but it's ultimately far too chilly to be particularly revealing, and strangely, perhaps too intimate to be nihilistic.  Like the filmmaker, "The Girlfriend Experience" seems to be making sense of itself every step of the way.