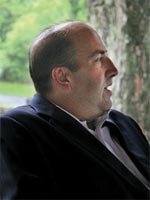 Kris's review of "The Girlfriend Experience" is but one of several that singles out the contribution of esteemed film critic Glenn Kenny to the film. In a sharply self-reflexive bit of casting, Kenny plays another critic of sorts — one who judges and critiques the performance of erotic escorts. But on his ever-readable blog, with tongue firmly in cheek, Kenny is quick to distinguish himself from the sleazebag he inhabits on screen:
I here pay homage to the pioneers who paved the way for me: the rare film critics who put themselves in the shoes of the performers they analyze and appraise. Steven's claim that what I do in Girlfriend is "just Glenn being Glenn" notwithstanding, I am not playing myself in the film, for my mother raised me better than that. Rather, I am portraying someone with my vocabulary, and an attitude that's not entirely foreign to me.
This serves as an introduction to a witty survey of previous acting efforts from notable critics, including a hilarious discussion of Rex Reed's performance in the notorious 1970 catastrophe "Myra Breckenridge":
He was quite game … But still—he's terrible. His line readings are flat throughout, and not in a good way. The nadir comes when his Myron is strolling through an orgy and a nude woman asks him, "What movie am I?" He looks down at her pubic area and, not even bothering to work up the tone of indolent contempt that was, and still is, a trademark of his, drawls, "How Green Was My Valley." Ugh.
All of which serves to remind me that "Myra Breckenridge" is one of those legendary "all-time worst" staples that I have yet to see. That nugget really whets my appetite.