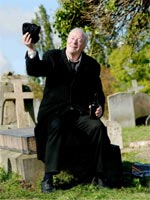 As we were reminded via Kris's lovely piece a few days ago, Michael Caine gives great interview. Coupled with his trademark Cockney candour is the kind of unguarded conversational ease that comes from decades in the business — he clearly knows how to politely direct the conversation into the area he deems most productive.
Such is the case in a recent interview with the thesp  in the Telegraph, in which he spends the requisite amount of time on his widely acclaimed performance in John Crowley's "Is Anybody There?" before going on a number of enjoyable tangents, both personal and political.
Under the former banner comes such invaluable advice as the secret to a successful marriage lying in having two bathrooms, while under the latter — well, let's just say he isn't a fan of Gordon Bown's Labour government. (His blunt assessment: "They've gone rotten and they've gotta go.") What I really liked, however, was his graceful and pragmatic approach to the issue of his eventual retirement:
What happens now is that I'll sit here and see if another script comes in that I really want to do, and if one doesn't then I'll be retired. There will be no fanfares, I just won't appear again. You don't retire, movies retire you.
Such modesty stands in contrast to the teasing "last film ever" media hoop-la that has surrounded, say, Clint Eastwood on both his last two onscreen outings, and I must say I find it more becoming. Caine's latter-day CV is very much a hit-and-miss affair for me, but there's an awful lot to be said for an actor — especially one as personality-propelled as Caine — not letting audiences know what they've got until it's gone.
All of which makes me curious to see for myself if his "Is Anybody There?" performance is really the triumphant career-capper that some are suggesting it is. I have reservations — the film's trailer, for starters, makes my stomach churn — but the quiet suggestion that Caine may not have a better lead role ahead of him is enough to get me in line.