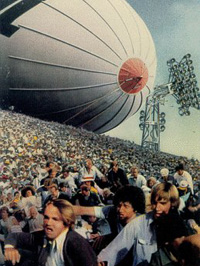 I remember watching 9/11 unfold in horror. As I came home that day, leaving the idle Toronto International Film Festival, all I wanted was to be with my family. Together we watched CNN well into the night and I found myself unable to translate some aspects of the day to my curious daughter. Explaining what happened was easy; explaining why was impossible.
We live in times when terrorism is a very real part of our lives, when acts of terror come unannounced, swift and brutal, doing exactly what the engineers of hate hope to accomplish.
Cinema is my job, my life. I spend much of my life in the dark watching flickering images created by artists, their stories unwinding through the projector and unto the screen. Sometimes they make films to make us laugh, sometimes they try to frighten us, enlighten us, or thrill us. Sometimes films replicate life in such a way it is unnerving, the realism is that strong.
Every now and then comes a film seems to be too real, too close. I felt that way after seeing John Frankenheimer's unnerving thriller "Black Sunday" in 1977. The film was terrifying in its depiction of terrorism, portrayed with a grim realism and matter-of-fact reality I had rarely seen before. It seemed to me that Frankenheimer had actually contacted real-life terrorists and been permitted to film their deeds.
"Black Sunday" was based on a best seeling novel by Thomas Harris, who had not yet written "Red Dragon" or "The Silence of the Lambs." The rights to the book were snapped up by Paramount and Robert Evans set to work on a blockbuster wrongly envisioning the project as a disaster film. His greatest move was to hire director John Frankenheimer, who saw something darker, more sinister — something extraordinary.
Frankenheimer assembled a unique cast: Robert Shaw, fresh from the success of "Jaws" as Kabakov, the Isreali agent on the trail of a terrorist; Marthe Keller as Illsa, said terrorist; and Bruce Dern as Vietnam veteran Michael J. Lander, hell-bent on making America remember what they did to him. It was hardly a group of major movie stars able to pull in a huge audience, but Frankenheimer was not making a star-driven blockbuster; he was making a realistic study of terrorism against the United States.
In the film, the Black September movement plans to commandeer the Goodyear blimp on Super Bowl Sunday and drop it into the big game's stadium, detonate it and send thousands of deadly darts into the stands, wiping out every living person at the game, including the President of the United States. Kabakov learns a little bit about the plan when he finds a tape made by Illsa after a raid on a Black September hideout, where he failed to take her out. Slowly putting the pieces together, he comes to America to foil the attack.
Lander is dangerous, a time bomb about to go off at any time, haunted by the war, haunted by being a prisoner of war kept in a cage for five years while his wife divorced him and the government did nothing to help him. He wants to get revenge. He needs to get revenge.
The film is a race against time. There is a startling chase sequence through the streets of Miami, where the agents close in on the leader of the Black September movement, thinking that with him out of the way the mission will be aborted. They do not count on Lander's madness.
"Black Sunday" was one of the best films in the 1970s, a real nail-biter that should have been a much bigger hit than it was. I saw the film four times in three weeks when it was released and have watched it several times since, marveling at Frankenheimer's creation and the brilliant performance from Bruce Dern.
The director gave the film an urgency, a sense that something terrible was going to happen, without action, and drew the audience in from the first sequence. He made it clear that for terrorists, murder is simply part of the job and the killings in the film have a chilly reality.
As Lander, Dern had one of his best roles and he knew it. In his wonderful memoirs he makes it clear that this was one of his favorite films and perhaps his best performance. There is a heartbreaking, yet oddly terrifying breakdown scene where he describes to Illsa why the mission means so much to him. Dern lays bare his soul on the screen in these moments which are among the finest acting I have ever seen…period.
This is a man betrayed by his family, by his country, and by the war he so believed in…the only thing he has is the mission. He wants to see those smiling faces he fought for in the moment of their death. That and only that will make him complete — terrifying.
Robert Shaw, forever Quint (for which he should have won the Oscar), is quietly brilliant as the Ireali agent Kabakov, cool and calm, chilly and remote because time is all that matters to him. As every minute ticks by they must be closer to finding what the target is, and as much as Lander cares about the mission, Kabakov cares about stopping them. The performance is not flashy, just real…and utterly perfect.
I struggled with why Marthe Keller ever had a career. Her work in "Marathon Man" was bland, she killed "Bobby Deerfield" and she was boring in "Fedora," but here she does very well, better than one would expect as Ilsa, a nightmarish Joan of Arc who hears the voices of death not angels.
Dern should have been nominated for an Academy Award for his performance, which could have been positioned either as a lead or in supporting. The British Film Academy nominated him for lead. The film received nothing from the AMPAS, however…not a single nomination. In fact, it was in theaters just a month before disappearing.
I have never forgotten the shocking realism of "Black Sunday" nor the near fanatical manner in which the terrorists go after their mission. It has lost none of its power, and in these times seems more topical than ever before. In fact, it is incredible that the best film made about terrorism was made 32 years ago, is it not? There is an eerie sense of accuracy in the film, the fact the terrorist choose a well-known American target, and commandeer a flying device to deliver their horror…all to real. And utterly brilliant.