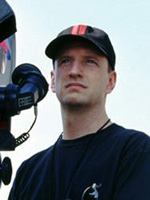 I'm a bit behind the curve on getting to this item so apologies if you've already read about it.  Back in February, Total Film magazine put together a great feature on James Cameron's "Avatar," an anticipated "game changer" set for release later this year and probably the industry's most anticipated film since, well, Cameron's last effort, 1997's "Titanic."  One of the people interviewed in the piece was filmmaker Steven Soderbergh, who, at the time, couldn't contain his excitement at the footage he'd seen:
"Yeah, I went to the set…I can tell you that shit was mindblowing. The shit I saw was crazy. Like, craaaazy. I I think it's gonna be gigantic. It's gonna be another one of those benchmarks. There's gonna be Before that movie and After."
Well in a recent interview for "The Girlfriend Experience" with Coming Soon's Ed Douglas, Soderbergh still had it on his mind:
We were asking why [Soderbergh] thought recent films didn't have quite the impact or longevity as the classics, and he gave us a great response about how the volume of movies being made and seen made it hard for anything to have the cultural impact of a movie like The Godfather or be remembered. He was disappointed there weren't those sorts of benchmarks in the movies being made today, but he surprised us by adding that he thought James Cameron's Avatar would be one of those benchmarks:

"I've seen some stuff and holy sh*t. It's the craziest sh*t ever. That could negate everything I just said," he told us.
There we are.  The sh*ts have it.  Can any film live up tho this kind of expectation?