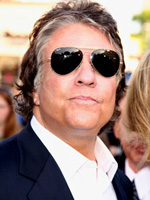 If there's one Hollywood memoir I'd love to get my hands on, it has to be that of producer Jon Peters.  Barbra Streisand's former beau and a certifiable wack-job if you trust the unavoidable talk of a town built by guys like this, Peters first caught my attention when I was a kid.  The movie was, of course, Tim Burton's "Batman" and every name in that amazing opening credits sequence was seared into my consciousness.
But Peters has more than been around the block, from 1976's "A Star is Born" to Bryan Singer's "Superman Returns" (another property he has on lock-down), give or take a "Witches of Eastwick" or a "Tango & Cash."  Hell, did you know the Peters/Peter Guber team was involved with Simpson/Bruckheimer on "Flashdance" of all films?  The mind boggles.
Anyway, it looks like Peters is strutting his stuff and trying to land a hunk of change for his life story, according to the New York Post's Cindy Adams:
In his mid-60s, he's now low-key but chubby, gray-haired, bearded, semi-scruffy, could use a hairdresser, and at one meeting never removed his coat. Mused the editor: "I think it was to hide that he's fat."

He's had multiple wives. His selling pitch is, no woman can resist him. No woman he can't turn on. No woman who'll voluntarily leave him. Of all his bedmates, he calls Barbra "the best." He brought a collaborator who actually read his proposal aloud for him because, for whatever reason, Jon Peters does not, cannot or will not read.

Because he'll name-drop, one publisher offered a $550,000 advance. He refused that. Another offered $875,000. Looks like he'll take that.
All of this reminds me of the Kevin Smith story about his involvement on the "Superman" reboot over a decade ago and Peters's obsession with certain plot particulars.  If you haven't seen it, you must.  Check it out after the jump.