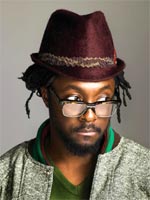 With "X-Men Origins: Wolverine" having landed with a bit of a thud, the snarkster in me couldn't help but smile at a couple of soundbites from this interview with supporting player will.i.am:
"I'm nervous to see my performance," said the self-described "X-Men" fan. "My participation in it automatically lends itself to: That dude messed the film up."

"This film showed me what I'm capable of doing, and I'm capable of letting go," he said. "Now I've got to let go and watch it. I know it's going to be dope, I just don't know if I'm going to be that dope."
Well, according to Kris's review, what he's "capable of doing" isn't very much, but clearly, the film's problems run deeper than having a gimmicky pop-hopper (not a real term, I admit, but how else to describe his music?)  in a supporting role. So to say he "messed the film up" would probably be unfair.
But as fans of decent music know by now, will.i.am's presence rarely augurs well for a project, so I guess the curse transfers to film as well. (Bias alert: I'm still bitter about Macy Gray's hideous last album.)
Meanwhile, someone from the "Wolverine" supporting gallery who I'd like to think has a brighter acting future is "Friday Night Lights" star Taylor Kitsch. (Gotta love that name.) There's a fairly unrevealing piece about the young actor here, one of those that describes a process seemingly far more elaborate than the eventual performance. (If the film does indeed portray the "complexity" and multiple "levels" of the Gambit character alluded to in the article, the reviews aren't reflecting it.)
However, better things are hopefully around the corner for him, starting with "The Bang Bang Club," in which he gets to play the pretty fascinating figure of the late, great South African photojournalist Kevin Carter. Onwards and upwards.
PS. Speaking of South Africa, while I wasn't the greatest fan of the wildly overpraised "Tsotsi" (personal iPod-fixture soundtrack  excluded), I do feel for director Gavin Hood a little.  To go from being the toast of the world cinema circuit to having your limitations exposed on second-rate Hollywood material — remember "Rendition?" Didn't think so — within the space of four years isn't a desirable career journey for anyone.