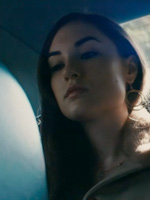 Steven Soderbergh is one of the intrepid titans of the day-and-date release system, causing the film purists to remain up in arms here and there.  His thriller "Bubble" opened simultaneously in theaters and on the cable/satellite TV network HDNet Movies just over three years ago. But he's trying something a little different this year.
"The Girlfriend Experience" lands tonight on Video On Demand networks across the country, more than three weeks before its May 22 theatrical release.  The film is already available at Amazon's On Demand service as a "pre-theatrical rental."  You can stream the film or download it to your PC for $9.99.  Downloads to Macs aren't currently available (sacrilege!).  At a brisk 77 minutes, it's not a bad way to see the film.
Since the world portrayed in the film is very real and, with the controversy surrounding former New York Governor Eliot Spitzer, quite current, I'm surprised there hasn't been a smart piece out there featuring the assessments, even anonymously, of people with…experience, shall we say.  Nothing yet.
The film features adult film star Sasha Grey in her first mainstream appearance.  Reviews will probably land, by and large, when the theatrical release hits but I'll probably have something up later this evening (no pun intended).
Here's the trailer: