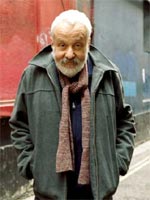 Here's something to brighten the day. It would seem that a new Mike Leigh joint (sorry, I couldn't resist) is on its way sooner rather than later — great news considering the four-year gap between "Vera Drake" and "Happy-Go-Lucky."
Screen International reports that Focus Features International has secured worldwide rights to the still-untitled project, and will co-fund the film together with the UK Film Council and Film4 (the same folks behind the auteur's last effort). Poignantly, this will be the last producing credit for the dearly departed Simon Channing Williams, Leigh's longtime collaborator.
If memory serves, this marks Leigh's first go-round with Focus, and it sounds like a pretty good pairing to me — perhaps a necessary change after Miramax's slightly indifferent handling of "Happy-Go-Lucky."
A formidable cast of Leigh veterans is already in place, with the "Vera Drake" team of Imelda Staunton and Phil Davis being joined by "Topsy-Turvy's" Jim Broadbent — a heavyweight trio, by any standards. No plot details, of course, though the article promises "an intimate portrait of people's lives" (from Leigh? I'd never have guessed) based on "unique improvisational techniques." (Well, knock me down with a feather.)
I'm totally in. But you knew that.