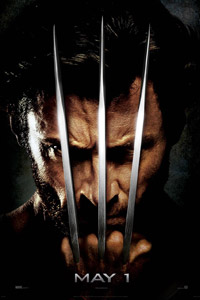 After weeks of bad press following an unanticipated work print leak and rampant speculation that the film was likely to be D.O.A., both financially and creatively, the best thing one can say about "X-Men Origins: Wolverine" is that it wasn't as awful as expected.  But positivity hits a brick wall after that concession.
In a genre that only seems to spark when filmmakers come at the material from a place of passion, Gavin Hood's prequel to Fox's "X-Men" franchise comes across like an anonymous, factory-assembled piece of corporate product with no personality and no thematic virtue.
What it lacks in quality it doesn't exactly make up for in spectacle, and while it is more centered on character than story, it nevertheless skims the surface where that is concerned.  A film that might have had something for everyone nearly offers nothing for no one.
Hugh Jackman dons the too-tight jeans and adamantium talons for the fourth time in nine years as James Logan, a hyper-healing mutant with a shady (and lengthy) past.  Screenwriters David Benioff and Skip Woods borrow and manipulate Marvel's "Origin" mini-series at will, especially in the early portions of the film, to give a vague point of entry that neither gives the audience a nuanced portrait of the character nor Jackman the proper material in which to invest himself.
As a child, young James was apparently part of a broken family.  He learns his bully of a friend, Victor Creed, is actually his brother, though nothing further is given in the way of explaining the clearly awkward circumstance of this environment.  But it serves as a spring-board into the film's most intriguing idea, an opening credits sequence that spans decades and wars (both domestic and global), Logan fighting for America with his brother at his side every step of the way.  (But I have to wonder: Who storms the beach at Normandy with a stogie hanging out of his mouth?)
As an adult Creed, actor Liev Screiber borrows what might have been left over from his similar black-sheep-sibling performance in Edward Zwick's "Defiance."  He has a bloodlust that Logan doesn't share, an attitude of "us" against "them" that dovetails nicely with Col. William Stryker's (Danny Huston, his talent wasted throughout) development of a military squad with "special privileges."
Differences are had, lines are drawn in the sand and Logan leaves that world behind for a simple lumberjack's existence in the Canadian Rockies.  But Creed's final words to him serve to foreshadow: "We can't just let you walk away."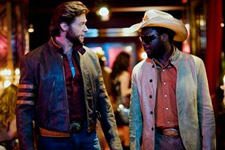 The particulars of Stryker's intentions are better left discovered in a darkened theater, but every powerful mutant has a hand to play in his scheme, a role to fill for this, a mad scientist in the guise of a military man.
The script itself clearly rushes through the motions, but Hood's handling of the material is creatively criminal.  While Bryan Singer made the franchise sing, especially in the 2003 sequel "X2," with personal elements and waves of an artistic mind's wand, Hood comes across as a director-for-hire.  No passion, no sense of understanding of or excitement at the character and certainly no care for mythos and the material's history.  What he has sliced and diced is a passable piece of entertainment, something far too harmless to be considered brazen.
The most intriguing aspect of the film for some viewers might be the chance to see Jackman tackle the role that made him with deeper meaning via an origin vehicle.  But instead he dials in yet another snarl-laced turn, seemingly confused as to his motivation at times.  Huston, while serving as a decent 15-years-back likeness for Brian Cox (who portrayed Stryker in Singer's "X2"), he essentially barks and growls his way through a villainous part with no source of his mania apparent.  Hood and company might have considered dealing with Stryker's son, Jason, rather than relegating him to an ice cube easter egg.
Schreiber is little more than serviceable as Creed, while his chemistry with Jackman isn't an eighth of what it should have been to feel the tough love going on between the two.  The performance is hardly "bad," but one nevertheless wonders how the Tony-nominated actor lost his way between "Talk Radio" on Broadway just over a year ago and this.
For the geeks, there are plenty of bonuses.  While the concept of packing the film to the gills with a wide array of secondary characters from the X-universe might have seemed like overkill from afar, each piece has its place in the puzzle here and never overwhelms the mixture.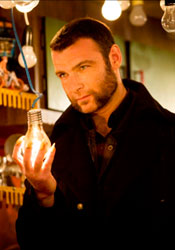 For example, though an arbitrary fight sequence between his Gambit and Jackman's Logan sullies Taylor Kitsch's early moments (and though his Creole accent could use some dusting off), he works for what he's called to do.  Ryan Reynolds, meanwhile, (though replaced later in the film by Scott Adkins as the film's excuse for the character of Deadpool) is wasted in a role some say he might have been born to play.
Elsewhere, hip-hop artist will.i.am is just…there…as teleporter John Wraith.  Kevin Durand ("3:10 to Yuma" and television's "Lost") is somewhat intriguing beneath a fat suit as The Blob.  And Scott Summers (Tim Pocock) even shows up as an introduction to the film's overall plot point without muddying the continuity waters as bad as you'd expect.
Frankly, all the story elements are in the right place, linearly speaking.  Beyond the lingering confusion as to how you bridge the gap between Schreiber and "X-Men"'s Tyler Mane, "Wolverine" makes for a solid lead-in to the franchise with nary a piece out of place, which of course reveals the fatal flaw of the film: contrivance above substance.
And who can be surprised when we're talking about the fourth entry in a lucrative studio franchise?  Then again, dual sets of philosophies seem to continuously be at odds where translating comics to the screen is concerned.  Some seem to embrace the material as a pool of potential good for more than selling action figures while others apparently prefer to get in and out as quickly as possible and with as little hard work as necessary.  And in the final analysis, there's something to be said for the entertainment value of each.
You know what you prefer.