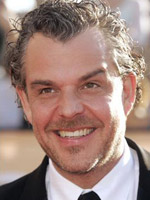 Boy, Danny Huston sure does seem to be going for the cash grab lately.  He's a talented actor, so I sure wish he'd try to expand beyond the creative rut he's in right now.  First "30 Days of Night," then "X-Men Origins: Wolverine," now this?  We're a long way from "The Proposition."
All that said, I'm strangely looking forward to the "Clash" remake, which has already landed Liam Neeson in the role of Zeus and Sam Worthington in the role of Perseus.  Ralph Fiennes is also set to star as Hades and one of my favorite young actresses, Alexa Davalos, has been cast as Andromeda.
Here's the Hollywood Reporter brief, fit with an unfortunate lede:
Danny Huston is getting wet for Warner Bros. and Legendary Pictures.

Huston has been cast as Poseidon in "Clash of the Titans" opposite other Mount Olympus power players Liam Neeson and Ralph Fiennes. Sam Worthington, Mads Mikkelsen, Gemma Arterton, Jason Flemyng and Alexa Davalos also are in the cast.

The retelling of the Perseus myth, directed by Louis Leterrier ("The Incredible Hulk"), began shooting Monday outside London.
The question remains. Who's gonna play Medusa!?