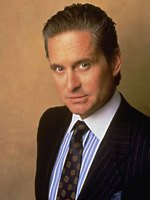 Not long ago, what with the housing market on the fritz and certifiable capitalistic ruin staring down the face of America, not to mention stoke brokers being painted as the devils of the earth, it seemed a great time to revisit Oliver Stone's 1987 film "Wall Street," the Michael Douglas starrer that put "greed is good" into the lexicon of trade pushers everywhere.
Back before the release of Stone's "W.," screenwriter Stanley Weiser talked about the prescience of "Wall Street."  At the time, "Gekko's character was written to create an engaging, charming, but deceitful and brutal being," Weiser said.  "I have nevertheless run into quite a number of younger people, who upon discovering that I co-wrote the film, wax rhapsodic about it . . . but often for the wrong reasons."
The time for a sequel, likely with a much more pointed message, seemed at hand.  Then word came that Stone had dropped out of pursuing a follow-up in favor of the long dormant "Pinkville" project.  But today, Patrick Goldstein offers the following juicy (but sourceless) tid-bit:
…Fox is now saying the movie has a green light again. Stone is back aboard as director, Michael Douglas will reprise his role as Gordon Gekko and the studio is in negotiations with Shia LeBeouf to play a young Wall Street trader under Gekko's spell — a somewhat updated version of the character Charlie Sheen played in the original film. The sequel's original writer was Stephen Schiff, who has now moved on, with Allan Loeb ("Things We Lost in the Fire") having done a rewrite of the script. Fox hopes to have the film in production as early as sometime this summer.

The film is now simply going under the title of "Wall Street 2," having shed its original "Money Never Sleeps" moniker. No one is offering a lot of specifics about the storyline, except to say that the focus remains on the Gekko character, whose exploits will closely reflect much of the greed and chicanery seen in the past year on Wall Street.
I'm not really sure how I feel about it.  Getting someone like LaBeouf seems like the obvious play, but Stone is also something of a master at making an impact with the obvious, so perhaps this could work.  Read the rest over at The Big Picture.  (UPDATE: There's also this AP story with quotes from Douglas and Fox spokesman Gregg Brilliant.)
Meanwhile, allow me to submit this: Could "Wall Street" be the most dated film of all time?  Seriously.  That cell phone!  The art work!  Darryl Hannah!  Anyway…