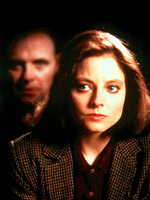 I stumbled onto Noah Forrest's ribbing of Jonathan Demme's "The Silence of the Lambs" over at Movie City News today toward the end of this piece, and frankly, I found little I could argue with.
Here's the key graph:
I think seeing Bill Hader's brilliant impression of Jame Gumb on a recent SNL made me question a lot of things about The Silence of the Lambs. First off, Jodie Foster is plain old not good in that film. Her accent is awful and she over-emotes constantly. Secondly, Ted Levine's performance as Jame Gumb has turned out to be the most memorable thing about that film ("Is she a great big fat person?"). Thirdly, that film is really not that great and it pains me to say that because I always held it in high esteem. In fact, it plays better as an unintentional comedy than as a thriller.
Ever since the film was released back in February of 1991, I've found myself scratching my head at its somewhat over-elevated status as a modern classic.  I fully agree with Forrest's assessment of Jodie Foster's Oscar-winning performance, for starters, and beyond the sheer thrill-factor of the film (it can't be said that it's not a solid genre entry), I never…ever…understood the awards train it dominated in the fall of that year.
First and foremost there is the idea that Oliver Stone's "JFK" and Barry Levinson's "Bugsy" were FAR AND AWAY more deserving of the year's Best Picture honors.  I think the Oscar run had a lot to do with money, to be honest, as "Silence" was the highest grossing adult drama of the year (coming in #4 domestically behind "Terminator 2: Judgment Day," "Robin Hood: Prince of Thieves" and fellow Best Picture nominee "Beauty and the Beast").  That and Anthony Hopkin's brilliant (supporting) performance, one for the ages.  The film also maintained a popularity for the full year between release and the Oscar ceremony.
But Best Picture of the year?  My mind still boggles.  To think the film shares the famed Oscar quintet distinction with "It Happened One Night" and "One Flew Over the Cuckoo's Nest."  Shocking.
Anyway, that's a mini rant.  Here's Forrest's full take.  He's taken some shots in the past for going against the grain on this or that (an anti-Ridely Scott rant early on, for instance), but I think he's close ont his one.