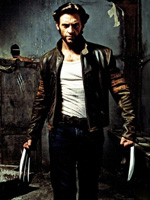 Okay, so last week when junketeers got their first look at "X-Men Origins: Wolverine," many (especially the AICN crowd) were quick to dog-pile the studio for having the gall to "lie" when the film leaked earlier this month.  Fox honcho Tom Rothman, at the time, said the completed version of the film contained 10 minutes of footage not seen in the leaked workprint.
As it turns out, this was reported as false (albeit through the heavy glaze of snark).  But that didn't stop the studio from going on the record with Patrick Goldstein today to clarify:
Fox's senior vice president of corporate communications, Chris Petrikin…explains that he was probably the person who told Rothman that 10 minutes were missing from the pirated version of the film. He stressed that the studio was under enormous pressure after the piracy as it attempted to sift through a host of often wildly speculative Internet reports about the theft.

"There was no 'fibbing' involved — that would imply that we were so on top of things that we anticipated having one of our biggest films of the year stolen and had time to concoct a plan to purposefully 'spin' wrong information," Petrikin told me. "Remember, Tom gave this [Entertainment Weekly] interview a day after we learned of the theft. A lot of information and misinformation was flying back and forth then, and there was no way to sort it out quickly or definitively. In fact, I think I told Tom that there might be 10 minutes missing from the stolen version, based — obviously — on misinformation I was given or misinterpreted. The real issue is the scale of this crime and that the film was not finished when it was stolen."
Eesh.  I might have just embraced the old adage "Mum's the word."  Pieces like this seem to be making more of a mess of things.
Anyway, I'll get into why "Wolverine" doesn't suck near as bad as I thought it would tomorrow.