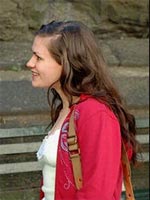 Last month, I discussed my frustration over the terminally delayed status of Kenneth Lonergan's sophomore feature "Margaret," while sharing a slender hope that linking of composer Nico Muhly to the project might bode well for its eventual completion.
Unfortunately, an extended LA Times investigation into the matter suggests that "Margaret" is a long way from seeing the light of day — if that ever happens at all. John Horn's interesting piece provides by far the most comprehensive breakdown to date of the factors delaying the film, and it doesn't make for encouraging reading. With Lonergan apparently incapable of completing an edit that satisfies him and/or the film's backers, "Margaret" is now deeply tangled in legal limbo.
A number of producers and editors — including (Scott) Rudin, (Sydney) Pollack and Martin Scorsese's legendary editor, Thelma Schoonmaker — have tried but failed to help Lonergan complete his movie, court documents and interviews show. With his financing from (Gary) Gilbert and Fox Searchlight cut off, Lonergan borrowed more than $1 million from actor and close friend Matthew Broderick (who has a small part in "Margaret") in an attempt to complete the editing of the movie, according to a person close to the production.

The film's lengthy post-production sparked two lawsuits, which are scheduled to be tried in June and September. Last July, Fox Searchlight sued Gilbert and his production company, claiming he failed to pay the studio half of the film's production costs. Two months later, Gilbert's Camelot Pictures sued Fox Searchlight and Lonergan, alleging that the studio and Lonergan thwarted Gilbert's many attempts to finish the movie, forcing Camelot to pay for "a clearly inferior and unmarketable film" that Lonergan, several people say, will not support.
There's a lot more messy detail where that came from, and the article lays it out better than I can. Horn also offers the bittersweet revelation that the troubled film buried beneath these unfortunate circumstances may well be worth saving.
Lonergan's screenplay is clearly a challenging piece of work, while rumour has it there are some superb performances in the mix. (With that cast, should anyone be surprised?) There's also relayed word that Martin Scorsese has described an earlier cut of the film as a "masterpiece."
Whatever the hypothetical quality of the film, it's sad to see someone as gifted as Lonergan embroiled in such unseemly legal circumstances. If "Margaret" ever does surface, it will arrive with an excess of circumstantial baggage that will inevitably affect its media reception — and that the film will need to be pretty special to override.
I have sympathy for Lonergan — creative blockage is an intangible and not easily remediable phenomenon, and shouldn't, in an ideal world, merit legal persecution — but if ever there was a reminder of the multitude of creative and financial identities at stake in a single production, this story is it. And with film lovers the biggest losers of all in this scenario, here's hoping they find a way out.