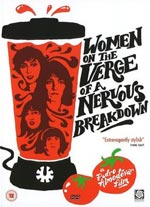 It's been a full two decades since "Women on the Verge of a Nervous Breakdown," Pedro Almodovar's engagingly ramshackle, day-glo farce with a baldly self-explanatory title, garnered the then enfant terrible of European art cinema his first Oscar nomination and put him on the road to crossover respectability.
Twenty years, ten films and two Oscars later, the auteur's mainstream gentrification is complete, with the rather bizarre news that an Almodovar-produced TV drama series based on "Women" is in the works for Fox. Completing one of the odder talent pairings in recent memory, a pilot is being penned by "Grey's Anatomy" scribe Mimi Schuir. Allow me a moment for that to sink in.
It's not that I mind Almodovar being embraced by a broader medium — to do so would be akin to those tiresome underground music fans who turn on their favourite bands the second they receive a smidgen of radio play. I'm actually pretty thrilled to see such a challenging, eccentric filmmaker finding this level of pop influence; if it brings new audiences to his rougher, earlier work, so much the better.
Moreover, Almodovar's ascendancy to the title of 'America's favourite Euro auteur' has, by and large, been achieved by audiences adjusting to his sensibility rather than the other way round. (I would venture that "Talk To Her" is the most quietly subversive Best Original Screenplay of all time.) That he continues to alternate warm, humanist audience-pleasers like "Volver" with more probing, sexually contentious fare like "Bad Education" proves he's no less audacious a filmmaker than he was in his early days — just a more mature and technically proficient one.
Not an obvious fit for Fox TV, then. But in another way, a televisiual take on Almodovar's work makes perfect sense: like so many of his films, "Women" is steeped in the gaudy aesthetics and narrative conventions of TV soap-opera and trashy chat shows, gleefully melding low culture with high art. By returning to the source, as it were, the potential exists for a wickedly self-reflexive work of parody — ideally, a more daring, fully realised  stab at what "Ugly Betty" heavy-handedly (and ultimately half-heartedly) attempted with its incorporation of Latin American telenovela conventions.
Why, however, do I suspect that's the last thing we'll be getting? Well, the "Grey's Anatomy" connection isn't helping, for one thing — but writers can be diverse creatures, so I'll let that slide. No, what causes my heart to sink is Schmir's description of the show as "a suburban drama about a group of women who have known each other for a long time, perhaps from college, who are in the middle of their lives and looking at the second half of their lives."
Judging from that description, the film — which, lest we forget, is a pitch-black urban comedy largely predicated on chance encounters with the unfamiliar — and the TV series will have about as much in common spiritually as, say, "Dr. Strangelove" and "The West Wing." Hey, I like "Desperate Housewives" too, but if that's what Fox really wants to remake, why involve Almodovar?