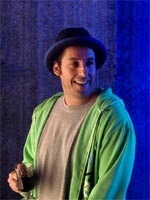 I don't mind admitting that I wasn't entirely won over by the trailer for Judd Apatow's "Funny People," which, for all its smartness, seemed to me a little too calculated in its bid for laughing-through-the-tears pathos. Like pretty much everyone else, James L. Brooks struck me as an obvious point of reference — but whether we were talking Brooks on a good or bad day was unclear to me. It's just a (very long and over-expository) trailer, after all.
Now Jeff Wells has chatted to a couple of folks who have seen it, and is passing along the word that Apatow has seemingly channeled Brooks on a very good day indeed. Awards-season good, even:
Possibly an award-level thing, a director friend said this morning, although he was just passing along the chatter. It's more in the realm of Sandler for Best Actor and Apatow's script for Best Original Screenplay, he speculated, than a Best Picture shot…but you never know.

So I called a non-vested guy who's seen it, and here's what he said: "Really funny, a really sweet movie, a lot of veracity…really a brilliant film. Everybody's game goes up a lot. It's a James L. Brooks-level thing and a great role for Adam. It's a perfect blend of everything Sandler has done in a serious vein. The film could be a bit of a marketing problem because it's about show business but it's so real.. It's about a famous guy, a comedian, having to deal with the fact hat he has no life and nobody to turn to. But he gets better [through a relationship with a younger comic]…it's basically a love letter to having a family."
No specific mention of Leslie Mann, who struck me on paper as the film's likeliest awards prospect, but that was a shot in the dark. Anyway, I seem to recall hearing near-identical chatter about "Spanglish" before it finally surfaced, so I'll remain guarded. (I'm expecting something better than that fiasco, of course, but I'm just sayin'.) Encouraging buzz, nonetheless.