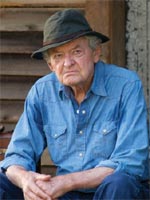 In his roundup of highlights from the Nashville Film Festival, Nathaniel Rogers chalks up a highly plausible contender for Best Actor honours this awards season: Hal Holbrook in "That Evening Sun," an indie debut feature from Scott Teems.
Playing an 80 year-old farmer desperately trying to hang on to his land, Holbrook's performance has already drawn praise at last month's SXSW  fest, where the film won an ensemble award. Amid a rave for the film itself ("an exceptionally fine example of regional filmmaking"), Variety declared Holbrook's turn the best of his career, calling it "a vividly detailed yet subtly rendered performance." Rogers clearly agrees:
It's based on the short story by William Gay about a farmer who escapes the old folks home and returns to his beloved farm only to find it occupied by new tenants. The film is well directed by Scott Teems, graduating from short films to his first feature, and an Oscar campaign could materialize for Holbrook if this movie gets a solid enough release. Holbrook plays a stubborn old ornery codger… one could say it's an Eastwoodish role with less of Clint's squinty menace and more of Hal's weary sensitivity.
There's a theory I can absolutely buy into. From Richard Farnsworth to Richard Jenkins, the Academy has shown a soft spot for veteran character actors in gentle independent dramas, while their affection for Holbrook was made clear last year when they nominated him for a film they otherwise couldn't have cared less about. Hell, in a weaker year, he could easily have won. (On a trivial note, the 84 year-old thesp could beat his own record as the oldest male acting nominee.)
No indication yet of what kind of release the film might enjoy, but it sounds like one to keep an eye on. Powerful trailer after the cut.