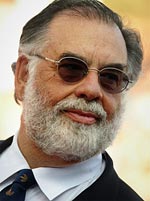 After turning down an out-of-competition slot at Cannes earlier this week, it seems Francis Ford Coppola has had a change of heart. Variety reports that his new film, "Tetro," will open the festival's Directors' Fortnight on May 14, marking the much-awaited film's world premiere.
The addition of Coppola adds some welcome lustre to a sidebar that frequently gets unfairly neglected in favour of the Official Selection (where "Tetro" was previously offered a place). The Director's Fortnight may also attract attention for showcasing significantly more US talent than the selection of competition films announced yesterday, which included a mere two American titles (and only one from a Yank filmmaker, at that).
In contrast, five American features make the Fortnight lineup, including Sundance talking-points "Humpday" and "I Love You, Philip Morris." (Meanwhile, Lee Daniels' much-garlanded Sundance sensation "Precious" (AKA "Push") will appear in the Un Certain Regard strand of competition.
Though the media focus tends to remain on the 20-odd films up for the Palme d'Or, Cannes runs far deeper than that. Some have complained that yesterday's competition lineup, with its high quotient of previous winners and established auteurs, feels a bit too safe and insular (though "safe" hardly seems an apt adjective when the likes of Gaspar Noe and Lars Von Trier are involved), but it's not just new talent lurking in the sidebars.
For example, those focusing only the competition lineup may have failed to notice that Michel Gondry has a new film bowing on the Croisette — "L'Epine Dans le Coeur" is apparently a small-scale French-language effort, though other details are hard to come by — while Alejandro Amenabar's much-touted "Agora" is also set to appear. With Terry Gilliam finally unveiling "The Imaginarium of Dr. Parnassus," Coppola now joining the party and "Up" kicking the whole thing off, there's as much glitter outside the competition as inside it.