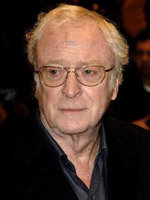 I just got off the phone with Michael Caine for a piece I'll have up momentarily concerning his rather striking performance in John Crowley's "Is Anybody There?," but while I had him cornered I thought I should ask him point blank about his potentially staring in Christopher Nolan's "Inception," a rumor that's been bouncing around unconfirmed as of late.  As it turns out, Caine will be in the film, albeit in a very small role.  Here's what he had to say specifically:
I have a little part in it, yes.  Just a tiny part.  Chris and I are very good friends so I'll do that little part.  I think I'll work about three days.  It'll be extraordinary, wait until you see this one.  I think if I say another word he's going to kill me!
Also officially joining the cast today is Joseph Gordon-Levitt, stepping in for James Franco (who had scheduling conflicts).  Here's The Hollywood Reporter on that news:
A veil of secrecy exists over loglines, though the project, which Nolan also wrote, is described as a contemporary sci-fi actioner set within "the architecture of the mind."

It is known that Gordon-Levitt is taking the role to have been played by James Franco, who bowed out over scheduling issues. He would play an associate of DiCaprio's character, a CEO-type.
The cast sure is filling out nicely.  But I'm just…dying to know what the heck this movie is about.  "Set within the architecture of the mind" isn't cutting it for me anymore, and now I have Michael friggin' Caine telling me "it'll bee extraordinary."  The last time he went on the record regarding a Nolan film, an Oscar resulted.  Aggggh!  Maybe I should take a lead from J.J. Abrams and patiently wait for what's coming to me.
Keep an eye out later today or over the weekend for that interview.