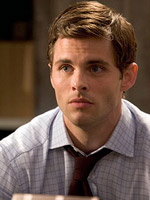 It seems the knee-jerk reaction to director Rod Lurie's decision to remake the Sam Peckinpah film "Straw Dogs" is just as you'd expect.  Certain outlets see red and use their web space to bitch about the necessity of such a film.  The Playlist and Rope of Silicon have rants up about it, if you want to wallow in the views of a couple of guys who have apparently conditioned themselves to call foul at the gall of a move like this.
Thing is, Lurie is more than aware of the predicament he's putting himself in by moving forward on this project.  Though it cracks me up that the film is being held on high as a gem of cinema not to be tampered with.  But some of these folks don't seem to get what Lurie is going for with this film.  How could they?  They haven't bothered to pick up a phone or get the goods on his view of things.  Take this aside from the former:
The whitebread milquetoast of James Marsden playing Dustin Hoffman, in a remake of a controversial and acidic Sam Peckinpah classic about wimps and the savage nature of man? Sacrilege!
The last time I talked to Lurie about this project, he said he was remaking "Straw Dogs," not Sam Peckinpah's "Straw Dogs."  Lurie wasn't raised like Sam Peckinpah and he doesn't have the same outlook on life as Sam Peckinpah.  He also never intended for his David Sumner to be a Jewish mathematician (though I think there's plenty "wimp" stuff to go around with a silver spoon type).  He wants to investigate how the events of this narrative would affect a different set, hence the casting of the "whitebread" Marsden and the role change to a Hollywood screenwriter.
Bottom line, I'm glad Lurie's doing what he wants to do.  In this age of remakes aimed at cashing in, I think it's safe to say reworking a 38-year-old thriller that no one particularly loved when it was released is nothing if not a passion project, so good on him for doing what he wants to do.
For more even-handed viewpoints: Devin Faraci has an interesting take on how to change up the events of the narrative at CHUD, while Jeff Wells writes that Marsden's casting means Lurie "naturally doesn't want his film to be compared too precisely" to the original.  But I think the reasoning is much more thoughtful than that.
(P.S.: I'm more than aware of my own tendency to knock films or ideas in advance based on my own views and opinions.  This one just rubbed me wrong this morning, so I had to be a hypocrite for a spell.)