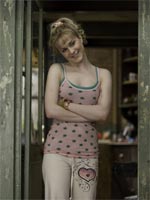 Even with the success of "Vicky Cristina Barcelona" having partially righted the course of Woody Allen's career, I can't help holding my breath when the reviews roll in for his latest effort. Few auteurs inspire more haphazard uses of the term "return to form" (roughly applied to anything that doesn't go completely off the rails from the word go), with so many critics seeming to forget that Allen's best form is, well, anyone's best form. ("Vicky" was a delight, to be sure, but Barcelona is a long way away from "Manhattan," if you will.)
In the case of "Whatever Works," which just opened the Tribeca fest, the trade reviews — while uniformly encouraging — vary between gently disciplining expectations and wildly inflating them. Performing the latter task is David D'Arcy's all-out rave in Screen International,which declares the film Allen's best in over a decade:
Writing a New York story and shooting at home has given Allen a sureness to his voice. The dialogue here has a familiar ring yet a crackling freshness … Whatever Works transcends Allen formulas thanks to David, who is taller, balder and more foul-mouthed than the usual types Allen himself has played. Spitting out his lines, David finds a deeper nastiness here than the everyday bile of his character on the autobiographical Curb Your Enthusiasm. Allen does wonders with a character who isn't seeking to be loved.
There is praise too for Evan Rachel Wood, with D'Arcy invoking a favourable comparison to "Manhattan's" Mariel Hemingway. Wood and fellow female co-star Patricia Clarkson are also singled out in the Hollywood Reporter's more muted review, which suggests the ladies, like Penelope Cruz last year, could ultimately pull the film into awards territory:
While this comedy starring Larry David doesn't break any new ground for its creator in either style or content, it features enough genuine laughs to give it decent commercial traction … The film does, however, serve as an excellent vehicle for both Wood, utterly charming here, and Clarkson, displaying her considerable comic talents. Both actresses, like so many others from Allen's previous films, may well wind up garnering significant attention come the next awards season.
Variety offers a similarly conflicted take, delighting in the film's "witty one-liners and wondrously convoluted tirades," but also declaring it "forced" and lacking in "breathing room." Wood, however, once more comes through with flying colours — I'm glad to see that, after a few years in the wilderness, she seems to be regaining some career momentum.
Whether the same can be said for Allen is unclear from this mixed batch of trade reviews — the answer may yet lie in the broadsheets. (On a side note, how did I miss until now the fact that Harris Savides is the DP on this one? Whatever his own creative ups and downs, Woody continues to have the most unimpeachable taste in collaborators.)