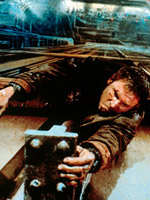 And with that, part one of the first round of voting comes to a close.  Go here for the background on our survey.
Today, we have 10 fresh titles in the left sidebar for you to rifle through on the way to choosing THREE worthy of moving forward to the next round.  Each poll throughout the rest of round one will include 10 films and choices of up to three.  Last week's poll was the big dive, 16 titles.  The five that moved on from there were:
"Apocalypse Now" (1979)
"Battleship Potemkin" (1925)
"Citizen Kane" (1941)
"Gone with the Wind" (1939)
"Rashomon" (1959)
I must say, I was sad to see "Bonnie and Clyde" left out.  The Arthur Penn classic was in the top five for a while, but it was too close for comfort on "Battleship Potemkin" as far as I'm concerned.  Literally, a final vote right at the deadline secured it a place in the top five over "E.T.: The Extra-Terrestrial."  That says one thing to me: more people need to see it.  So to those of you who've never seen it, do yourself a favor: seek it out.
No, it is not the most captivating film of all time and no, you won't be seeing anything "new" by your standards.  But do a little digging and find out why the film has meant so much to the practice of film editing and montage and you'll discover why its impact is probably felt as much if not more than the most seminal titles on our massive list of 66.
Keep in mind when voting: this isn't a popularity contest.  Don't just rattle off votes for your favorite films (which, I imagine, has to be the main reason "E.T" was so high on the list during part one).  Take a moment to think about what the films have meant to the medium.  This list represents you, the readership, after all, so vote wisely.
This poll will close Wednesday, April 29 at 2:00 pm EST.