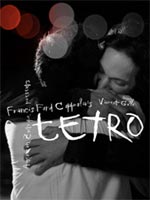 Now here's a curious strategic decision. Having been offered the chance to unveil his much-anticipated "Tetro" in an out-of-competition slot at Cannes, Francis Ford Coppola has responded with a polite "thanks, but no thanks":
"While I very much appreciate the invitation, this is an independent film, self-financed and self released, and I felt that being invited for a non-competition gala screening wasn't true to the personal and independent nature of this film," Coppola said in a statement released late last week. "More important than Cannes, our team can focus all our time, energy and resources into the US release this June 11th."
Coppola is instead opting for a considerably more low-profile bow at the Seattle Film Festival. What gives? Perhaps he just wants to avoid the pressure of a major festival environment: the Cannes crowd can be notoriously hostile towards auteur works that don't meet certain expectations. (Just ask Coppola's own daughter.)
But they can also be welcoming towards veteran filmmakers looking to rediscover form, particularly in the more relaxed out-of-competition strand — Woody Allen has twice benefitted from such platforms in recent years. Considering that "Tetro," an Argentinian-set family saga headlined by Vincent Gallo and Maribel Verdu, doesn't sound like the easiest sell in the world, I'd say the Cannes exposure could have done it some good — but maybe Coppola knows something we don't.