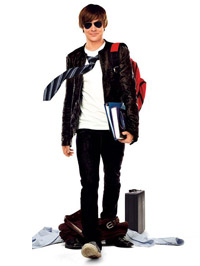 For the second weekend in a row, a product of the Disney Channel has headlined the top film at the box office. This week it's Zac Efron in the Warner Bros. comedy "17 Again." Sure, this plot has been done before multiple times (three in 1988 alone), but not with that distinct new millennium flavor. What's that? "13 Going on 30?" Okay, so no movie this millennium has done it with a boy as the lead.
And that's why this film needed to be made. Conceptual gripes aside, I actually like Zac Efron and if the trailers are any indication, his timing and charm are the only things this film have going for it. A $24.1 million opening weekend is virtually identical to the aforementioned Jennifer Garner vehicle, which helped her establish an identity outside of "Alias." Her next film was "Electra" so hopefully Efron is paying attention.
"State of Play" investigates second place with $14.1 million and a handful of decent reviews. In previous years this kind of film would have done better (Affleck's 2002 April thriller "Changing Lanes" debuted with $21.2 million), but in 2009, Universal will take that result. Direct competition comes from "The Soloist" next week but the word of mouth among adults should be strong enough that this sticks around until Memorial Day.
After the demanding "Master and Commander" shoot, Russell Crowe said he wasn't interested in doing movies where he was in every shot any more and that explains his last four films pitting him against an equally famous co-star. With the exception of "American Gangster," all of them have debuted with $13-$14 million.
The voltage just wasn't high enough for the Jason Statham-starring "Crank" sequel as it crashed into sixth place with $6.5 million.  Statham has never opened a movie over $20 million but even for him, this is bad news. "The Bank Job" debuted with a similar amount and had remarkable word of mouth help it reach $30 million total. If "Crank: High Voltage" makes half that, it'll be a huge victory now. Audiences rejected the film outright which means that by my count the score is now America: 1, Hollywood's Bonehead Sequels: 764.
Drops weren't pretty for any of the films due to last Friday being a holiday but "Observe and Report" took it the hardest, losing 63%. Unless you count "Dragonball Evolution," which I don't, because it's already out of the top 10. "Hannah Montana" dipped 61% and will struggle to reach the $91 mil that "High School Musical 3" eventually topped out at.
I threw $10 to "Anvil! The Story of Anvil" and "Two Lovers" this week and I recommend you do the same for the former. The latter missed the mark.
Next week starts early with Disney's nature documentary "Earth" opening on Wednesday. 1,800 venues are estimated to carry the film making it the widest debut ever for a documentary and indicates the Mouse House is not joking around with it. Still, it's a nature documentary so I think $10 million over five days would be a great result.
On Friday, we get Beyonce and Ali Larter fighting over Idris Elba in "Obsessed." If Like Father Like Son can get a modern update then why not "Fatal Attraction?" This is exactly the type of movie that Sony excels at marketing to teens and turning into modest hits. I think this is your number one movie with $19 million.
"The Soloist" is getting some decent reviews but it's hard to wipe away the reek of 2008 leftovers. Jamie Foxx and Robert Downey Jr. have fans but they're not necessarily in the target audience so if this one hits, it'll be through eventual word of mouth. $9 million.
Then there's "Fighting." I could be way off base here but I haven't heard a thing about this movie and even though Channing Tatum is hot and extreme fighting is cool, I can't see many teens picking this over "Obsessed." I'll say $5 million but am prepared to wipe egg off my face if this blows up.
What do you guys think?  Here are this weekend's top domestic grossers, courtesy of Exhibitor Relations: