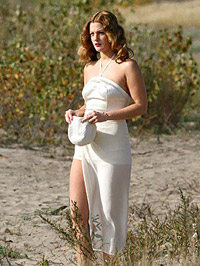 In a stunning, Oscar-worthy performance that redefines her as an actress, Drew Barrymore is nothing short of miraculous as Little Edie in "Grey Gardens," the latest knockout from HBO. Nothing the actress has shown us before will prepare you for her transformation into the eccentric character she portrays in this fine film.
I remember seeing her and Jessica Lange presenting at the Golden Globes, holding hands, both looking like they had the most amazing secret in the room. Obviously they adored working with one another on the film, and together they create two characters who could not exist without each other. Ironically, neither actress could do what they do on film without the other.
The film is based on the famous documentary of the same name by the Maysles brothers, which chronicled the everyday life of a mother and daughter, once affluent and wealthy, now eking out an existence in a run down, vermin-infested 14 room mansion in East Hampton. The aunt and cousin of Jacqueline Kennedy, the odd mother and daughter became cult figures in New York's underground art world. Their story, from wealth to abject squalor, is explored in the film.
We have come to expect high quality work from Lange, though in fairness her better efforts have been sporadic over the years. She overcame the stigma of the terrible remake of "King Kong" in 1976 with a string of outstanding performances beginning with the Angel of Death in "All That Jazz" and Cora in "The Postman Always Rings Twice," for which she deserved an Academy Award. Lange was electrifying in the film, all but blowing Jack Nicholson off the screen.
One year later Lange was nominated for two Academy Awards, winning Best Supporting Actress for her lovely comic turn in "Tootsie" and astonishing audiences with her ferocious work in "Frances" as troubled actress Frances Farmer. More nominations would come for "Country" and "Sweet Dreams," with attention for "Crimes of the Heart," but no nomination, however deserving.
She gave a powerful performance in "Music Box" for Costa Gavras and found herself up for Best Actress again. She finally won an Oscar for "Blue Sky" in 1994, a film that sat on the shelf for more than a year awaiting a release. Lange's performance as a troubled Army wife was also lauded by the Los Angeles Film Critics Association.
In the years since Lange has given a series of erratic performances, shining on stage and the small screen as Blanche Du Bois in "A Streetcar Named Desire" and the HBO drama "Normal" with Tom Wilkinson, and on film in "Titus" as the treacherous Tamora. But there was also "Hush" and "Bonneville," awkward performances far from what we had been accumstomed to seeing from her.
As Big Edie in "Grey Gardens," Lange is brilliant, creating a selfish woman who never overcame what she lost in her youth, holding her daughter tightly in a most manipulative manner, coveting her home (the film's namesake) with an almost pathological determination, Big Edie lives with hundreds of cats, raccoons, and other assorted vermin (as well as the tons of waste they leave in their wake).
Barrymore is a revelation as Little Edie, going deeper than she has ever gone before as an actress, more than holding her own against the formidable Lange, in fact stealing the film. Had this been a big screen release, the Academy would have little choice but to honor her for her astounding performance. As it is, the Emmy is hers. She does more than capture the look and essence of Edie; she brings to the part a kind of desparation, aware of her situation but doing her best to make the best of it despite the fact she has set aside all of her dreams, no matter how deluded.
Where did this come from? Nothing Barrymore has done is even close, with her best work coming in "The Wedding Singer," "Ever After" and "Everyone Says I Love You." This is the sort of performance that causes actors and directors to look at you differently, to decide that yes, indeed, you are up to the challenge of stronger roles, and after so long in the business, you have crossed over from movie star to actress.
Admittedly, I was astounded by Barrymore's work because I believed she was woefully miscast. I was dead wrong. She took this character and made it her own, giving Little Edie a soul and sense of sadness that spilled off the screen down into our hearts. That wide-eyed, naive look when describing what she was wearing was both heartbreaking and pathetic, just like her character.
We see each of the characters decay along with their mansion, each becoming pale shadows of the beauties they once were. As the vermin overrun their home, so does their bizarre way of thinking take over their lives.
There is a brief respite from their daily existence in a visit from their Jacqueline Kennedy, who comes to them to help them get their lives and Grey Gradens back together. Jeanne Tripplehorn, almost unrecognizable, gives a fine performance as this figment of popular and historical culture; her intial reaction upon entering the nightmare that is Grey Gradens must be seen to be believed…quiet disgust at what her aunt and cousin have become. Imagine walking in the circles of power that Jackie did and coming to this.
I love it when we get to see a performance of such brilliance that is this unexpected. It is magic — pure magic between Barrymore and Lange, what Chris Cooper called (while working with Meryl Streep): "great jazz."