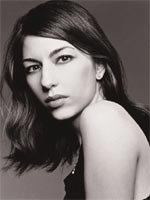 It seems to have become fashionable to dismiss Sofia Coppola as a lightweight in recent years, so news of her fourth feature film may be greeted with trepidation by some folks.
Not me, though. My relationship with "Marie-Antoinette" has shifted over time from guarded admiration to fully-blossomed love, while "Lost in Translation" remains, for me, the impeccably judged mood piece I always thought it was. (Detractors call it "slight"; I prefer "fragile.")
In any case, the many who were on board with "Translation," but disembarked at her hyper-stylised period piece, will probably be relieved to hear that, for her next effort, Coppola is returning to the contemporary, serio-comic territory (and studio) of the former film — luxury hotel setting included. Variety reports:
Stephen Dorff and Elle Fanning will star in the Focus Features dramedy "Somewhere," which Coppola penned. Story centers on a bad-boy actor stumbling through a life of excess at the Chateau Marmont. With an unexpected visit from his 11-year-old daughter, he is forced to reexamine his life.

The filmmaker, who said she has been looking to make "an intimate story set in contemporary Los Angeles," received permission to shoot at the hotel, which has become notorious in recent years as a popular address for tabloid-friendly celebs. Film will lense in L.A. and Italy in June and July.
(Incidentally, this is Coppola's third go-round with a hotel-bound narrative. Anyone remember her father's excruciatingly precious short "Life Without Zoe" — a riff of sorts on the old Eloise-at-the-Plaza chestnut, scripted by the then-teenaged Sofia?)
Back to "Somewhere," it sounds like a typically nebulous foundation for the director's trademark pastel-hued atmospherics, which is fine by me. I'm intrigued by the casting: Dorff's rough-hewn presence seems ostensibly at odds with the woozy femininity of Coppola's aesthetic, but that contrast could reap rewards — just as Bill Murray's tartness lifted "Lost in Translation" out of potential navel-gazing. Fanning, meanwhile, continues to land in one artsy project after another. (Perhaps she should choose her sister's scripts too.)