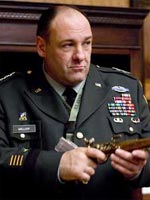 Regular Guardian readers will know that Peter Bradshaw, the paper's perma-grouch film critic, doesn't dole out five-star ratings lightly — in the past half-year or so, only "The Class" has made the grade. So I'm interested to see Bradshaw going all out for "In the Loop," a modest British political satire that had hitherto only been at the edge of my radar, despite some tasty ingredients.
The film, which opens Friday in the UK and in July Stateside, carries more built-in appeal for followers of recent British TV comedy, principally cult series "The Thick of It" — of which "In the Loop" is a direct spinoff, sharing some characters and the creative team led by Armando Iannucci — here making his feature helming debut.
Meanwhile, co-writer Jesse Armstrong also is one of the geniuses behind sitcom "Peep Show," so I'm in regardless. And throwing James Gandolfini into the very limey-flavoured mix only makes things more interesting. Looks like a political weekend at the movies for me, then.
Very funny trailer after the cut. Here's Bradshaw's take:
Some movies have the knack of arriving at the most painfully right time. Just as Damian McBride's blood is being Dysoned off the carpet at No 10 and Derek Draper's fingerprints removed from the Chequers dining table, here comes Armando Iannucci's horribly brilliant comedy about this government's culture of spin and muddle … The acting is superb, and the writing is relentlessly funny — vicious and delicious. And refreshingly, there isn't a sympathetic character in sight.