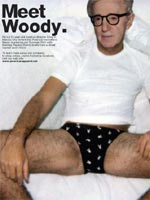 Today's most hilarious news item concerns an unlikely pair of names: Woody Allen and, uh, American Apparel.
The root of the story is commonplace enough: Allen sued the clothing company last year for using his image on a series of advertising billboards, without the filmmaker's authorisation. A fair enough gripe, surely, though I'd question whether it's worth $10 million. (Is this Woody's new method of financing pictures? If so, I'm all for it.)
American Apparel, however, has responded by taking the decidedly low road:
The company plans to make Allen's relationships to actress Mia Farrow and her adopted daughter Soon-Yi Previn the focus of a trial scheduled to begin in federal court in Manhattan on May 18, according to the company's lawyer, Stuart Slotnick.

"Woody Allen expects $10 million for use of his image on billboards that were up and down in less than one week. I think Woody Allen overestimates the value of his image," Slotnick said. "Certainly, our belief is that after the various sex scandals that Woody Allen has been associated with, corporate America's desire to have Woody Allen endorse their product is not what he may believe it is."
It's a funny tactic, to be sure, but a bit rich coming from a company whose CEO, Dov Charney, famously masturbated in front of a journalist, and has faced numerous sexual harassment lawsuits from his own employees.
I love Allen, and am wearing an American Apparel T-shirt as we speak, but neither party exactly earned my devotion through ethical excellence — though I think Allen has the upper hand in this instance. More details here, and another of the offending billboards after the cut.