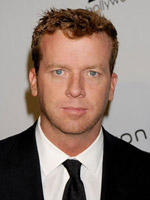 I don't think there's a site on the net more trigger happy with the word "EXCLUSIVE" (besides maybe Collider) than MTV's admittedly whip-smart, on it movies blog.  You take the good with the bad, I guess.  Everyone wants to claim morsels of nothingness for their own in this increasingly copycat coverage age of online journalism.
Anyway, the crew over there recently cornered director McG on the possibility of a "Terminator" franchise beyond next month's "Terminator Salvation."  Bottom line, I really want this film to work.  I felt like I breathed a sigh of relief with "Terminator 3: Rise of the Machines" in 2003, which I quite enjoyed.  It felt like the franchise dodged a bullet.  I've already gone on about how much I love the new trailer, but it's also clear that a PG-13 rating it's troublesome to say the least, especially in a franchise that has been dominated by the R.
In a nutshell, Warner Bros. has made it clear that money is a bit more interesting as of late than most anything else, and a PG-13 rating is likely to bring in a bigger audience than an R.  A tent-pole heavy slate of product has dominated the studio's list of upcoming works while indie divisions have been cut loose and allowed to disintegrate.
Keep that in mind as you read through McG's comments to MTV below.  The bold is mine (and indicative of an obvious desire to see this thing reach "Dark Knight" level business):
"If we have good fortune we have indeed planned out two more 'Terminator' pictures," explained the director, keeping his fingers crossed that "Salvation" opens strongly on May 21st. "There's an arc of story [in the new sequels]."

This arc will be left open with the ending of "Salvation," which will point to a "Terminator 5" film. "The ending is indeed elliptical," McG told us. "And it challenges the audience. It's not a happy little bow of an ending at all. The ending is tough and requires reflection, and in some degrees it bifurcates the audience. You walk back to the car and one person thinks it means this, and the other person thinks it means that."

As fans know, McG recently signed on to a film version of the Broadway hit "Spring Awakening," and is also working on an update of another sci-fi classic.

"I'm working on '20,000 Leagues Under the Sea' out of Disney," he said of the update of the Jules Verne tale. "I'm prepping that."

But if "Salvation" is a big enough hit, those other movies might have to wait until McG and Christian Bale reunite for the fifth "Terminator" flick.

"I would never presume there would be another picture – that is up to the audience," he explained. "But if the audience jumps up and likes it and wants another one, Christian and I have been talking about it and we'll see what happens."

"You have to see how the film is received," McG added. "And that's in the hands of the fans."
I know what you're all thinking: "McG knows what bifurcate means?"