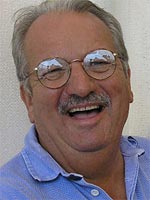 These days, there aren't many producers in the often too-cosy British film industry who genuinely earn the adjective "fearless," but Simon Channing Williams, who passed away last Saturday after a long battle with cancer, was one of them.
As much credit as auteur Mike Leigh deserves for changing the landscape of British cinema with his stinging social comedy and defiantly unorthodox creative process, Channing Williams merits the same appreciation for backing Leigh on every one of his projects since his breakthrough feature "High Hopes" in 1988 — however tenuously defined or commercially unsound they may have appeared to be at the outset.
The constance of Channing Williams' collaboration gave Leigh the wherewithal and confidence to push his art into ever more challenging and surprising directions, encompassing the icy philosophising of "Naked," to the warm domestic melodrama of "Secrets and Lies," the brittle classicism of "Vera Drake" to the loose-limbed yet black-edged comedy of last year's "Happy-Go-Lucky." It truly stands as one of the industry's greatest producer-director partnerships, and it's hard to imagine a future Leigh film without Channing Williams' name attached. As Leigh himself commented:
He was a natural-born producer, a great leader, always an enabler, a protector; never a dictator or an interferer. Infinitely generous, his life was all about doing things for people, and bringing out the best in everybody. He was the ultimate fixer, and a phenomenal organiser. He relished the impossible challenge, and loved the cut-and-thrust of negotiations, at which he was a genius.
Beyond his relationship with Leigh, which bore the producer an Oscar nomination and a BAFTA for "Secrets and Lies," Channing Williams was an active presence on the scene, shepherding projects as diverse as "Nicholas Nickleby," "Brothers of the Head" and, most prominently, "The Constant Gardener" — but it's as Mike Leigh's partner in crime that he'll be most remembered and treasured.
You may recall Sally Hawkins' teary "pillar of strength" tribute to him in her acceptance speech at the Golden Globes, which Channing Williams (himself a nominee for the film) was by then too ill to attend. The actress later remarked to me how wrong it felt to be attending the awards as the lone representative of a film which was altogether such a team effort — such is the nature of Leigh's collaborations. The team just lost an invaluable player.