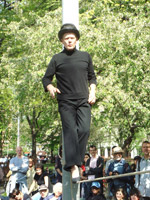 It seems the focus of last year's Oscar-winning documentary feature will be putting on an encore.  From the AP:
The 59-year-old says they'll include midtown Manhattan, and will promote literacy. He's keeping mum about other details.

Secrecy also preceded Petit's 1974 walk between the World Trade Center towers. A documentary about it, "Man on Wire," won an Oscar.

Petit has been an artist-in-residence at Manhattan's Cathedral of St. John the Divine since 1982. He keeps a practice wire strung high inside a hall there.

He's also braved a wobbly ladder to reach cathedral chandeliers.

Jokes Petit: "Now you know how many wire walkers it takes to change a light bulb."
No matter the issues I have with "Man on Wire," I can't deny the act and the awe around the man.  I'd line up for this.
Here's Petit goofing off in Washington Square four years ago: