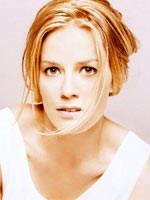 Just a few days after I bemoaned the fact that an actor of Jackie Earle Haley's calibre must resort to headlining a retread of "A Nightmare on Elm Street," comes even more depressing news.
Almost fifteen years after collecting an Oscar nomination for a performance that most actresses would find to be career-making, poor Elisabeth Shue is reduced to starring in Alexandre Aja's remake of "Piranha." In 3-D, mind you.
Shue's career trajectory, post-"Leaving Las Vegas," has long been a mystery to me: beautiful, well-liked ingenue with a decent commercial track record finally gets a chance to show her serious dramatic chops, is duly recognised for her efforts, and then … nothing, save the obligatory Woody Allen ensemble slot, some window-dressing in a few flop action flicks, and now the chance to work with the creative force behind "Switchblade Romance" and "The Hills Have Eyes." (The remake, of course.) Lucky lady.
Somebody stop the madness. Or the remakes. Whichever comes first.