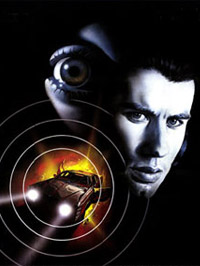 The name Brian De Palma first came to me when I saw a screening of the director's new film "Phantom of the Paradise," a high energy rock and roll fantasy based loosely on the classic "Phantom of the Opera" story. The film was a knockout, with a marvelous score by Paul Williams that should have earned the attention of the Academy for the many outstanding songs within.
Shortly thereafter I saw a De Palma double feature: "Carrie" and "Obsession," the former a superb adaptation of the Stephen King novel that earned Oscar nods for lead and supporting actress, while the second was a Hitckcockian thriller with a great musical score. The Hitchcock homage continued with "Dressed to Kill," a superbly shot thriller that gave Michael Caine one of his most bizarre, yet finest roles. Sexy and terrifying, the film was a huge hit with critics and audiences in the summer of 1980.
One year later De Palma gave us his masterpiece, a moody noir with John Travolta in his first role as an adult. Here we had a director at the top of his game and an actor made into a superstar with his previous films, "Saturday Night Fever," "Grease" and "Urban Cowboy." Travolta was hungry, looking for the role that would bring him greater attention as an actor.
People forget Travolta was nominated for an Oscar for "Fever" and won the National Society of Film Critics Award for the performance, which launched his career. His one career fumble, at that time, was the goofy love story "Moment by Moment" with Lily Tomlin that left everyone who saw the film puzzled as to why it was ever made. In De Palma, the actor had a director who understood cinema, who adored actors and allowed them their freedom while gently guiding them towards his vision of the film. Travolta could not have been in better hands.
"Blow Out" was also an homage of sorts to "Blow-Up," the outstanding 1966 film from Michelangelo Antonioni. Though this time sound and a moving image would become the obsession of the hero.
As Jack Terry, Travolta portrays a sound man for low grade horror films, the sort of pictures a naughty Roger Corman might make. He likes his job and seems to be good at at, using his microphone like a maestro conducting the sounds around him, hoping to create art with them. Watch the manner in which Travolta holds the mic, as though he has been doing it for years. There is real confidence in this performance, a lived-in quality that he had not shown before.
Jack Terry is a wounded character, a man devastated by something that happened in his past, which we later learn was a sting operation that went horribly wrong. Terry has buried himself in his work to escape his demons and one night, he finds new ones. He records, quite by accident, the assassination of a governor. With haunting overtones of Ted Kennedy and the scandal that nearly ruined him, the film throws us into a very different type of film within seconds.
John Lithgow plays the hitman with icy brilliance, while Nancy Allen (De Palma's wife at the time) gives a strong performance as a young escort caught up in the tangled web.
Pauline Kael hailed Travolta's performance as one of the finest pieces of acting since young Brando. Other critics recognized the brilliance of his work and celebrated the performance in print as well. De Palma's direction of the picture is splendid, creating unbearable tension with his use of sound, but having the courage of all great directors to allow his actor to carry the film.
"Blow Out" was released in the summer in 1981, going toe-to-toe with blockbusters such as "Raiders of the Lost Ark," "Superman II" and "Arthur" and really having no chance against such heavyweights. Sadly the film flopped but became something of a cult classic on video in the very early years of home entertainment. I saw the film again just yesterday and it remains one of the finest films of 1981. It certainly should have been nominated for Oscars across the board. How could the Academy ignore it?
It would be 13 years before John Travolta would be so challenged by a role again. In fact, it was his performance in "Blow Out" that led Quentin Tarantino to cast him in "Pulp Fiction." De Palma continued to make movies, some very good ones including "The Untouchables" and "Casualties of War," as well as a few turkeys that are better left unmentioned. But back in 1981 he got it all right with one of the cinema's great political thrillers and a knockout performance from an icon looking to be a great actor.