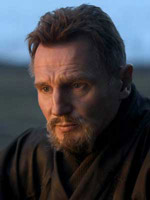 Can we just assume that whenever the Hollywood moguls in all their infinite, maniacl wisdom decide to actually film an unending epic based on the Bible, Liam Neeson is likely to get the role of God?
We're already talking about the guy who mentored both Batman and Obi Wan Kenobi, who starred as the magical authority figure of "Chronicles of Narnia" series, who brought inspiration in the early 20th century to those seeking a free Irish state and, of course, saved a bunch of Jews.  Let's not forget he's also set to play probably the country's most universally praised president of all time whenever the filmmakers decide to light that fire.
Now, naturally, Neeson has been cast as Zeus in Louis Letterier's "Clash of the Titans" remake.  The role was originally played by Laurence Olivier, which surprised many filmgoers back in 1981, that the celebrated film and theatre actor would stoop to genre depictions.  Ralph Fiennes is reportedly in talks to play Hades, making for an irresistible showdown of good versus evil.
But back to Neeson, Hollywood's go-to guy for mentor types and overall heroic displays, I'm very happy to see him hit the ground running and keep his chin up after the awful tragedy he and his family endured last month.  Keep working.  It's all you can do.
And regarding the "Clash" remake: part of me wishes it wouldn't happen, because I love the original so much.  But part of me REALLY wants to see this thing, too.