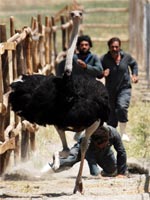 As the box office charts reveal, spring can be a harsh season for the discerning filmgoer — with the industry shifting its focus from prestige product before February's Oscar winners can even shake off their hangovers, we have to dig deeper than usual for fare with more on its mind than monsters, aliens and petrol.
The good news is that this fallow period affords a few miniature gems more breathing room than they would otherwise receive in the crush of awards season. With so little else to entice them, more adventurous viewers may be inclined to take a chance on a range of challenging stragglers from last year's festival circuit, the brilliant "Hunger" and "Sugar," and the much-acclaimed "Goodbye Solo," among them.
Joining this selection of specialist titles in New York last week (and in LA this Friday) is "Song of Sparrows," an unusual and thoroughly winning comedy-drama from Majid Majidi, the veteran Iranian auteur best known for such gently humanist works as "The Colour of Paradise" and "Children of Heaven."
The latter film made him the only Iranian filmmaker to date to receive an Oscar nomination — no minor distinction considering his compatriots include Abbas Kiarostami and Samira Makhmalbaf. Though "Song of Sparrows," Iran's official 2008 Oscar submission, fell short of repeating that feat, it displays many of the same aesthetic and thematic principles — its mellow, deliberate pacing, its observational, sentimentality-skirting use of child's perspective, its unwavering concern with issues of faith and community — that distinguished his earlier works.
A newer addition, however, is a streak of mordant humour running through the whole. Loosely constructed in amiably episodic fashion, it follows rural itinerant worker and put-upon family man Karim (an engagingly worn-in lead turn from Reza Naji that was rewarded with the Best Actor prize at last year's Berlinale) as he doggedly pieces together a living for his large, boisterous family, switching swiftly from ostrich farmer to city taxi driver to local junkyard hoarder, facing assorted domestic and spiritual crises along the way.
If the set-up sounds potentially bleak, the film remains markedly pragmatic, guardedly optimistic even, about the challenges facing its protagonist. "Humour is part the nature of every human being, whatever they are going through," Majidi explains (via a translator) over the phone to me. "Karim looks for reasons to celebrate even when things go against him. And I wanted the film to capture that real, true nature of an individual."
It's a statement that supports one of the first thoughts I had on watching the film: that it operates as a kind of counterpart to Mike Leigh's "Happy-Go-Lucky," another quiet character study of a guileless individual at odds with a less kind world, albeit one with a thicker skin than the occasionally volatile Karim. Rather like Leigh's film, Majidi describes his narrative as a celebration of such individual integrity.
"As humans, I believe we all live in our own heaven," Majidi says. "But modern life distracts us from that. Karim is essentially expelled from his own heaven when he begins working in the city and becomes concerned with material things. It changes his whole way of life, and the film is about finding his way back from that."
Although the film features few explicitly religious references, the above statement reveals the spiritual concerns that run through all the director's work, something he freely acknowledges: "Religion is a river that runs through all our lives — the trouble starts when you try and make an issue of it, because that ends in cliche." Explaining the dedication "to God" that opens the film, he adds, "I don't need to make a film specifically about religion, because it is always present. That is simply my way of acknowledging that."
Faith aside, Majidi regards his film's primary message as being universally anti-materialist — a stance, I suggest, that lends the film, for all its unfamiliar trappings, unexpected canniness when viewed against the global financial woes.
The director agrees enthusiastically. "We always want more than we need — this is what Karim learns, and what we need to learn today. I wanted to portray the importance of community in the film. Because this is just the start of the crisis. If we don't help each other — as individuals, as countries — we're heading for worse trouble."