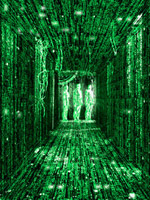 Lots of reminiscing going on this year.  After all, it was 10 years ago that Hollywood unleashed its most creatively exciting batch of domestic product in, some would say, 60 years.  A master filmmaker, some might call him the greatest to ever try his hand at the cinema, passed away just before leaving us his swan song.  Soon enough, those "best of the decade" lists will be unveiled.
And once upon a time, "The Matrix" was a brilliant accomplishment unphased by hackneyed revisitation and bloated sequelitis.  Things change, I guess.
Anyway, Shawn Levy, film critic for The Oregonian, has blogged the occassion of the film's tenth anniversary (it first bowed on screens April 2, 1999).  Here's what he has to say:
I remember the press screening of the film — or, rather, the screening that would've been the press screening had much of the Portland film press bothered to show up. It was held at the (then new) Eastport multiplex on a Monday or Tuesday night and it was nearly empty of both critics and the usual horrifying screening rats. It was, after all, a science-fiction film starring Keanu Reeves — his first since "Johnny Mnemonic"! — and written and directed by a pair of brothers whose debut, "Bound," was a terrifically good noirish chamber drama that did little business. If ever a movie had a pedigree that said, 'you can catch it in three weeks at a brewpub,' this was it.

"But walking out of that theater after that screening in the thrall of the wire-fu, the stop-motion FX, the mind-blowing script, the wicked-cool look-and-feel and breakneck pace, well, I was abuzz. It was the edge of Y2K, remember, and even if you knew enough not to fear the computer changeover that was approaching, there was an electric sense of possibility — and not entirely positive — in the air. Somehow "The Matrix" crystallized that energy, packaged it in superb visuals and a crackerjack story, and turned angst and giddiness and trepidation and exultation into brilliantly entertaining popcorn art."
I still remember the trailer hooking me immediately:
Warner Bros. recently released the film as a stand alone on Blu-ray (though it has that lame-ass book style packaging because Warner Home Video, as usual, has to be so different form the standard). And there's always The Ultimate Matrix Collection for the die hards.