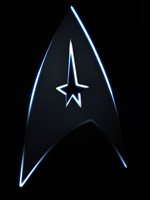 J.J. Abrams' "Star Trek" is pretty low on my "to-do" list, I have to say.  Ever since the CW/Young Guns approach was announced (not to mention an underlying disinterest in the material that goes back decades), it's been a bit difficult to keep the yawns down.  What can I say?  I'm no Trekkie.
But even I have to admit the positive notices, coming out of screenings in Austin (where Paramount has AICN in its back pocket and can offer up the goods in fanboyland) and Sydney (where the film held a world premiere at the Sydney Opera Hosue) have been getting my attention.  Here are a handful of reactions…
Moises Chiullan, Hollywood Elsewhere:
…an unrelenting, slam-bang naval war movie that rarely catches its own breath.  Shades of swashbucklers and submarine thrillers alike are all over the storytelling and smash-bam-kaboom stuff going on throughout. It's packed to the gills with escapist heroism with a healthy dose of optimism. There's plenty of room for interpretation for those who want to look for some allegory that is or isn't intended. The key is that Abrams and his team have bottled that '77 stuff of legend."
Harry Knowles, Ain't It Cool News:
There's some powerful thoughts about the future of our people in STAR TREK. That we as a people could be those people in a hundred, two hundred, three hundred years. If we can put away childish notions of borders and differences. If we can culturally keep our differences and celebrate our commonalities. At our best, STAR TREK is our future. Not BLADE RUNNER. Not TERMINATOR. Not any other Science fiction that I've seen, but STAR TREK. It's where I HOPE we're headed."
Neil Miller, Film School Rejects:
This is a big, fast-paced, sleek version of Star Trek that is unlike anything we've seen before — a new brand of space film that stretches what we thought possible in the realm of visual effects, and I don't think that's going to bother anyone."
And Peter Sciretta at /Film wrangled up some early Twitterers on the Austin occasion.  Dare I say it, my interest is piqued on a "Star Trek" movie.