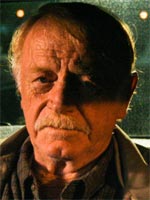 A little over six months ago, I saw "Goodbye Solo," Ramin Bahrani's highly regarded fourth feature film, at the London Film Festival. As I said in my capsule review at the time, I found several elements to like in this genial, commendably sincere work — not least a greatly moving performance from 71 year-old former stuntman Red West — but found the whole overextended and dramatically underpowered. Narrative parallels to Kiarostami's masterful "A Taste of Cherry" did Bahrani's film no favours in my mind either.
Anyway, after being mildly appreciative while watching it, I promptly forgot about "Goodbye Solo" altogether. That is, until last week, when its limited U.S. release was greeted with such breathless critical adulation — Roger Ebert and A.O. Scott are just two of the poetically enthusing critics contributing to the film's lofty Metacritic score of 88 — that I began to wonder if I had lost the plot altogether.
What resonance have I missed in Bahrani's slight, bittersweet narrative? Why does the minimalism of "Goodbye Solo" strike me as self-conscious, where the similar approach of, say, "Wendy and Lucy" feels wholly organic? Is it a film that might repay the effort of multiple viewings? All are questions that have run through my head. I was interested, however, to read this Huffington Post piece by Marshall Fine that suggests I'm not the only one scratching my head over this. Calling the film the most overrated of 2009 so far, Fine continues:
Turgid and uneventful, built around two characters of opposite demeanor whose paths temporarily reach a confluence, Goodbye Solo is another under-paced, under-dramatized film that falls into "neo-neo-realism" category that A.O. Scott went on about at such great lengths in a recent Sunday Times magazine piece.

Say what you will about the so-called mumblecore school of filmmaking — with its slapdash aesthetic and endless self-regarding conversations — but at least those movies seem to have something on their minds, beyond creating a mood. Goodbye Solo, however, is a thin character study over which critics wank themselves into a state of ecstasy at all the meaning they can superimpose on the film — sort of the way people imagined that the emperor was wearing beautiful clothes.
I'm not as hard on the film as Fine is (and I certainly don't share his hostile feelings towards "Wendy and Lucy" and some others of its ilk). But I do share his perception that there is less to it than meets the eye. I can't help sensing that "Goodbye Solo's" spring release might be flattering it somewhat, given the relative paucity of quality adult-oriented cinema in theatres right now. I don't expect many to agree with me (our own Chad Hartigan is a fan, for one), but can someone explain what I'm missing?