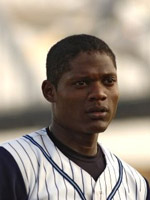 Chad didn't bring up Anna Boden and Ryan Fleck's "Sugar" in this weekend's Sunday Cents column because, on 11 theaters, the film brought in a modest $71,000.  And it probably won't move the needle much throughout its run where box office is concerned.  But I felt a need to put it back up on the radar since it will start expanding throughout the spring and hopefully find an audience of some sort.  By year's end, I expect "Sugar" to still be lingering as one of 2009's finest offerings.
Here is my short reaction to the film when I saw it at the Santa Barbara International Film Festival in January:
Even though I never fully understood what it was trying to say, I fell in love with Anna Boden and Ryan Fleck's "Half Nelson" follow-up "Sugar."  I missed the film at last year's AFI Fest in Los Angeles, and it received a world premiere over a year ago at the 2008 Sundance Film Festival, but a day after catching it at the Lobero Theatre here in Santa Barbara, I still find myself turning it over in my mind.  It's the lingering sort of cinema that I'm tempted to say will mean something different to you every time you watch it.

Algenis Perez Soto is the film's revelation, a tender first-time performer who excels under the direction of Boden and Fleck, two filmmakers who have cornered the market on intimate indie filmmaking that actually resonates.  The duo isn't afraid of the natural awkwardness of relationships, but not in the pretentious sort of way that leaves you reaching for a barf bag at every step of the way.  They trust their characters to be honest first, dramatic second.

That can also be a hindrance for obvious reasons.  The narrative rarely escapes a sense of safety.  Nothing is ever threatened along the way.  Nothing ever seems truly at stake.  But, in a sense, such is life.  But "Sugar" is as much a departure from the themes of "Half Nelson" as it is an extension of them, and to be such drastically different films, that is fascinating.
Give this one your 10 bucks, not the car movie.  Please.