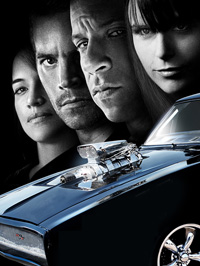 I have recently unearthed an internal industry memo.  It reads:
Dear Studios,

If you'd like us to pay to see your franchises, you must bring back all the cast members that starred in the original.  Do not worry about changing the plot too much, we liked what we saw that first time.  You don't even need to change the title, just get rid of those definite articles that waste marquee space.  If you follow our demands, we will show up in droves.

Signed, America
That explains how "Fast & Furious" was able to make $72.5 million over the weekend.  That's stronger than both the $50.9 million of the original and the $60.1 million debut of its first sequel.  It's better than any other film from 2009 so far and any other film that's ever debuted in the month of April.  By a mile.  For Paul Walker and Vin Diesel, what seemed like desperation now looks like smart business sense.  Legs will be atrocious but it doesn't matter.  $300 million worldwide seems like a certainty at this point and Hollywood may start looking at April a little differently.  Anybody that shelled out $10 to see this has no right to complain about anything Hollywood puts out ever again.
A film with good reviews opened as well but since there were no car chases in it, sixth place and $6.0 million is all it could muster.  The film is "Adventureland" and despite Miramax's attempts to market it like a raunchy, broad teen comedy, audiences saw through all that and the film performed like a coming-of-age drama.  Legs could be decent but they'll have to be tremendous for the film to even reach $20 million.
Another new face appeared in the top 10, bringing up the rear.  Overture expanded "Sunshine Cleaning" to 479 theaters and earned a solid $1.9 million.  The Sundance pick-up has set itself up to finish slightly better than Overture's indie-that-could from last year, "The Visitor," but don't count on any Oscar attention.  The grosses aren't near enough to wipe away the mediocre reviews.
In its second week, "Monsters vs. Aliens" dropped an understandable 44% and crossed the $100 million mark today.  Despite a slower start, it should have no trouble fending off "Fast & Furious" and lay claim to the title of highest grossing film of the first quarter by the time May rolls around.  As for the film most had pegged for that honor, the news gets grimmer and grimmer.  Already out of the top 10 and struggling to double its debut, "Watchmen" is being met with shrugs throughout the world and has amassed only $67 million overseas.  "Bride Wars" has made $54 million so you do the  math.
Next week's big gun is "Hannah Montana: The Movie."  If a concert film on 687 screens can debut with $31.1 million, then a full blown feature on 3,000 screens has to do better, right?  I don't think so.  If there's one thing audiences love, it's a gimmick and the 3D concert was just that.  Miley Cyrus may be a concert draw but she's no movie star just yet.  I'm looking at $25 million.
Seth Rogen teams up with the team behind "The Foot Fist Way" for a comedy that looks to earn every inch of its R-rating.  "Observe and Report" has none of the gooey sentiment of the Apatow-inspired batch of comedies that have dominated the landscape the past few years and as a result, I can't see women showing up like they did for "I Love You, Man."  $14 million would be a decent result.
Finally, Fox unleashes "Dragonball Evolution."  After "Street Fighter" and "12 Rounds," I have to assume that whoever was giving out green lights 18 months ago at that studio was either stoned out of his mind or a 10-year-old boy.  $6 million.
In the name of restoring sanity, if you have a chance and haven't already, do yourself a favor and check out "Sugar "or "Goodbye Solo" while they're out.  Here are the week's top 10 domestic grossers, courtesy of Exhibitor Relations: