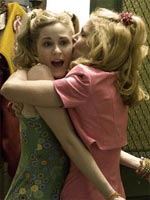 As Penélope Cruz, Dianne Wiest, Mira Sorvino and assorted nominees over the years can attest, if you're an actress hungry for some awards attention, you can do a lot worse than take a supporting role in an (at least) halfway decent Woody Allen film. (Unless, of course, you're Scarlett Johansson, who's still holding an IOU for her startling work in "Match Point.")
Allen's latest, "Whatever Works," has just been unveiled at ShoWest, and while much of the advance speculation has been centred on leading lady Evan Rachel Wood, I've heard a couple of informal reports that, in accordance with the aforementioned trend, Patricia Clarkson could be the story here. Which wouldn't be a surprise, of course; she's a great actress, and the film apparently gives her a chance to play entertainingly against type.
Judging from this faintly spoiler-ish description from a contributor at Nat Rogers' Film Experience site, it sounds like a pretty showy role:
Patricia Clarkson storms into the movie after approximately 40 minutes, and plays a role in many ways comparable to Penélope Cruz's tempestuous Oscar-winning Maria Elena. While I was initially skeptical of Allen's treatment of Wood as a young Lolita, Clarkson actually plays the much more sexualized character. After showing up on Boris's doorstep in a hot pink ensemble (scrunchy included!) fit for the Southern pageant circuit, she is quickly awakened to the culture of New York … Her character transitions from praising Jesus to opening an exhibit of nude collages. Clarkson is dynamic and sexy and once again demonstrates her unbeatable range. I don't think it is any stretch to consider her worthy of this year's Oscar race.
The film is still under embargo, so we'll need to wait and see whether the critics confirm such inclinations or not. If they do, it can be beneficial to get on the radar this early: last year, breathless Cannes buzz installed Cruz as the de facto frontrunner for a whole six months before awards season even began, and (Winslet category confusion notwithstanding) she never once wobbled from that perch.
Clarkson is among the most overdue actresses out there: it's a travesty that her lone Oscar nod to date was for the largely disposable "Pieces of April," by no stretch of the imagination her best work. She's coming off a good run of late: her graceful, quietly sexy scene-stealing in last year's "Elegy" certainly deserved more awards notice than it received, and she did sterling work in "Vicky Cristina Barcelona," even if her co-stars had more to work with.
With Allen seemingly giving her more of a platform this time, and a turn in Scorsese's "Shutter Island" still to come, this could be another solid year for a real actor's actor.