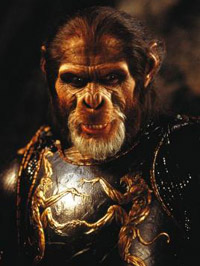 It happens, sometimes when a really fine actor manages to give a brilliant performance in a terrible or weak film, a diamond in the rough. In fact, some of the best actors working have shone brightly in bad films as far back as the 1940s, though I will focus on the 1970s to present day here today.
For whatever reason the respective film fails: perhaps the writing was weak, the direction went horribly wrong, or all the ingredients needed to make a great film, hell even a good film, simply were not there. Yet a single actor did everything right, understood their character, understood the impact they needed to make in their scenes and they give a superb performance despite his or her surroundings.
Look at Bruce Dern in "The Great Gatsby."  Here we have an exceptional actor in one of the roles of his career.  He WAS Tom Buchanan, elevating every single scene he was in with sheer presence. Jack Clayton's direction was lumbering, Robert Redford was woefully miscast and Mia Farrow? Please.  (The single burning question we need to ask ourselves is what about Daisy attracts Gatsby when he can now have anyone — she doesn't appeal on that level.)
Dern radiates the sort of danger Redford needed to have in the role of Gatsby, but is far too good as Tom to even think of him in a different role here.  The lead really should have been Jack Nicholson.  Can you imagine the sparks between him and Dern?
Perhaps one of the best performances ever given in a bad film was Morgan Freeman's breakthrough in "Street Smart," portraying a vicious pimp using a journalist portrayed by Christopher Reeve to get off a murder rap without realizing that he too is being used. Freeman is brilliant, all smiles and kindness, the sort of guy you would like to hang out with until his temper flares (to say the least). With just a few moments of screen time he gave an unforgettable performance as Fast Black.
All the major critics groups took note and awarded him supporting actor honors and he got his first Oscar nomination, a rave review from Pauline Kael, and a career.  But the movie wasn't up to his work.
Remember the Barbra Streisand ego trip "A Star is Born," in which she transplanted the the story to rock and roll and pop? Streisand and boyfriend Jon Peters bullied director Frank Pierson on set, made life a living hell for most of the cast and crew and turned the film into one big Babs close up. The one thing they did not screw up was the haunted, beaten up performance of the great Kris Kristofferson as rocker John Norman Howard.
From the moment we first see him, arriving late for a concent, his eyes defeated, his body telling us he has had enough, to the final moments on screen, Kristofferson dominates this ego fest with a remarkable performance. The producers initially wanted Elvis Presley for the film but I cannot imagine anyone other than Kristofferson in the role.  A terrible film, a wonderful performance.
Even the greats can steal a film away from the garbage bin. Jack Nicholson was terrific as the labor organizer in "The Last Tycoon," Elia Kazan's sleepy adaptation of the F. Scott Fitzgerald work, with Robert De Niro as a thinly disguised version of Irving Thalberg.  While De Niro chooses to portray his character virtually asleep, Nicholson imbues his with a life force so strong he all but blows De Niro off the screen. The role has but a few minutes of screen time, but he steals the film.
Just as Al Pacino did with "Cruising," a guilty pleasure of mine that I always felt was much better than it was given credit for. William Friedkin turns his lense on S&M and homosexuality, creating instant controversey.  Pacino portrays an undercover cop who goes deep into this world to find a killer, and in the process begins to question his own sexuality.  It is a brave, strong performance in a film that was butchered by the studio and then the critics, rather unfairly I think. Somewhere in there is a fine film, unsettling though it might be, a powerful work and one of Pacino's more interesting performances.
When challenged by a director or the role Harrison Ford can be an excellent actor. The great Burt Lancaster made it clear that it takes a real actor to portray Indiana Jones because of the sheer presence required for the part, and Ford has always been just that, a real actor. He gave an Oscar-nominated performance in "Witness" and should have been nominated the next year for "The Mosquioto Coast." As far back as the 1970s however he was quietly stealing films from his co-stars.
In "Heroes," a goofy film about a Vietnam vet played by Henry Winkler on his way to start a worm farm, Ford portrays fellow vet who misses the conflict because he enjoyed killing. The scenes take place in the latter third of the film and Ford is eerie; you cannot shake him once he is gone. Winkler you wish you could shake, though.  Wretched.
And one more, Tim Roth in Tim Burton's horrible remake of "Planet of the Apes" as the chimpanzee General Thade, a ferocious character you would not want to cross. Both Roth and Burton did a great deal of research and found that chimps are by far the most agressive and terrifying of the species when provoked and incorporated that into Roth's amazing performance. Watch how he sniffs out the fear in another character or goes out of his mind when betrayed. A brilliant actor giving a wonderful performance in a grostesque and stupid, stupid, stupid film.
Obviously there are more, and yes I am preparing one for the ladies…yours?